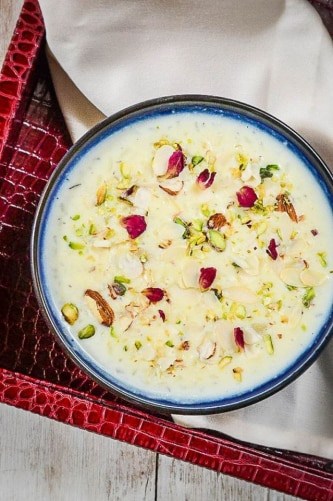 Chickoo Ki Kheer
This Chickoo kheer (Indian porridge) is made from milk and chickoo a sweet and versatile fruit, the ice cream of which you must have enjoyed many a times. This is my first ever recipe on Plattershare. It is a sweet recipe more delicious recipes will follow.
Ingredients
1

litre milk

1

packet Gits Basoondi

4

chickoos

caster sugar

according to taste,

almonds and pistachios to garnish

dried rose petals to garnish

optional.
Instructions
Prepare : Peel the chickoos and puree them in a blender until smooth. Keep aside.

Cook : Make the basoondi with the milk and Gits Basoondi mix. Completely cool the basundi.

Mix the pureed chickoos in the cooled basoondi. Add sugar according to taste.

Chill in the refrigerator.

Serve : Serve garnished with almond, pistachios and the dried rose petals.
Notes
Note : If the chickoos you have bought are not sweet enough in taste, you can use them to make this kheer .
In case Gits Basundi is not available, you may use 2 litres milk and boil it with a little ground cardomom until the milk is reduced to half. Everything else is the same.