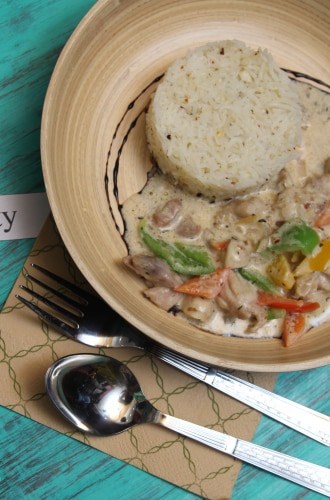 Chicken Or Veg Fricassee With Butter Parsley Rice By Celebrity Chef Rakhee Vaswani
14 February, 2017
Celebrity Chef Rakhee Vaswani knows how to style each dish and present it so that its loved by all. Fricassee is a method of cooking meat which is used in french cuisine where the cut of the meat is first sauteed and then the liquid is added to simmer it .Here is a simple Chicken recipe which is styled on the parsley rice to give it a beautiful dish which can be eaten by any picky eater.
Ingredients  
1

chicken breast

Onion – medium size

¼

Mushrooms – 3–4

Butter – 1 tbsp

Flour – 1 tsp

Dry white wine

optional – 15 ml

stock – ½ cup

Amul cream – 30 ml

Thyme – a sprig

Nutmeg – a pinch

Salt and pepper – to taste

1

cup

cooked rice

a day old and kept in the fridge

Parsley – 1 tsp

minced

Mixed herbs – a pinch
Instructions 
For the chicken fricassee: Cut the chicken breast into long strips about 1 cm wide. Then toss them in flour until fully covered.

Dice the onion and mushrooms.

Heat the butter in a frying pan and cook the onions until soft.

Add the mushrooms to the onions and cook for 3–4 minutes.

Add the chicken, cook until brown all over.

Pour in the white wine and boil to burn off the alcohol. Add the sprig of thyme, and salt and pepper to taste.

Add the chicken stock, bring to a boil and simmer for 20 minutes.

Remove from the heat and add the cream. Then put it back over the flame and warm it, taking care not to let it boil.

For the butter parsley rice: Heat butter in a pan and quickly toss in the rice with parsley and herbs and season well to serve as an accompaniment with the chicken fricassee.

Serve Chicken on a bed of butter parsley rice.
Notes
This recipe which has been shared by
Celebrity Chef Rakhee Vaswani
from her book –
PICKY EATERS
" This book is about making everyday food fun, exciting and yummy for kids. It is targeted at mothers who have 
picky
eaters
 (albeit of all ages!) at home, and whose children revolt at the mere thought of 
eating
 greens and who are constantly running out of nutritious lunchbox ideas.