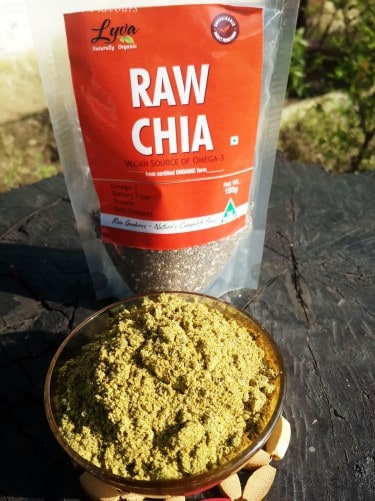 Chia Seeds Idly Powder
Recipe Development for wordpress-731799-2596730.cloudwaysapps.com Product Review for www.goindiaorganic.com Idly powder/Milagai Podi is a quintessential condiment in my home that is made in bulk quantity and relished on a daily basis. The usual version of idly powder has dhals like black urad, channa, sesame seeds, red chillies, hing and curry leaves. But here, in order to incorporate healthy organic ingredients in my daily food, I have used LYVA's Organic Raw Chia Seeds in place of sesame seeds. Chia Seeds are rich Omega-3 & Omega-6 essential fatty acids, protein and dietary fiber that enhances the nutrient content of the dish greatly. This recipe can be prepared in bulk and stored in air-tight box for relishing it as and when required either in the form of a paste or smeared on idly or dosa. It is an ideal option for tiffin box or as a travel food.
Ingredients
Black urad dhal - 1 cup

splitted

Channa dhal- ½ cup

LYVA's Organic Raw chia seeds- ¼ cup

Dry red chilies- 25-30

AsafoetidaHing- 2-3 tsp

Curry leaves- 2-6 twigs

torn into pieces

Salt to taste

Sugar- 12 tsp

optional

Any cooking oil- 1-2 tsp

for roasting
Instructions
Roast black urad dhal, channa dhal, dry red chilies and curry leaves one by one with little amount of oil till they are crisp and golden in colour.

Chia seeds can be grounded raw. In fact, using grounded or powdered form of raw chia seeds in recipes is the best way of consuming them as it helps in the optimal absorption of nutrients in our body.

Bring the roasted ingredients to room temperature and grind it into a coarse powder along with chia seeds, asafoetida, sugar and salt. You can grind it finely also if your family prefers that way.

Transfer it to a large bowl and mix well.

Store it in an air-tight container to keep the flavours intact and can be served as an accompaniment for idly, dosa and upma varieties. This recipe stays fresh for 2-3 months.
Notes
http://ssksblendsnflavours.blogspot.com/2016/08/chia-seeds-idly-powder.html
For preparing podi idly, make a paste of Chia seeds Idly powder with oil/ghee and smear it on both the sides of idly. Serve hot with curd.
For onion podi dosa, sprinkle Chia seeds Idly powder/milagai podi and chopped onion over the dosa and flip it to toast till golden.
To have it along with plain idly or dosa, upma mix the required amount of Chia seeds Idly powder with oil/ghee and relish.