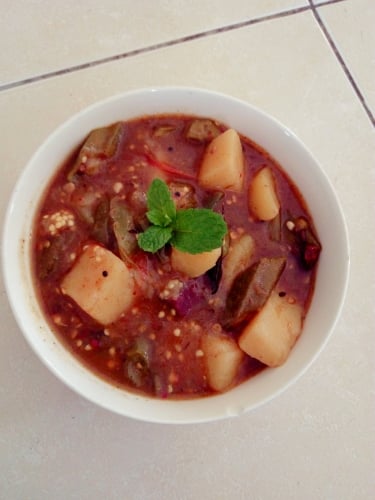 Chettinad Vendakkai Mandi (Okra Mandi)
7 June, 2018
I like this vendakkai mandi , not a typical puli kulambhu but its very simple to make and I like its simple flavor a lot. Paruppu Urundai and this Vendakkai Mandi is very famous in Chettinad cooking. It gets the name mandi because tamarind is soaked in washed rice water. This can be mixed with curd rice, sambar or any main dish. You can see this in marriage food. I actually like it as main kulambhu too. I like to mix it with white rice and eat.
Ingredients
For saute;

Vendakkai / Ladysfinger / Okra - 1 1/2 cup

Small Onion - 1 cup

Garlic - 8

Tomato - 1

Tamarind

small size - lemon size(soak in rice washed water)

Salt to taste

For tempering;

Oil - 2 tsp

Mustard Seeds - 1/2 tsp

Fenugreek seed - 1/4 tsp

Urad dal - 1/2 tsp

Jeera - 1 1/2 tsp

Curry Leaves - as per requirement

Dry red Chillies - 5

Green Chillies

long slit - 5
Instructions
Heat oil in a pan, add ladies finger/okra/vendakkai saute, stir fry for 15 min till it turns shrinkly, Keep aside alone

Take a pan add oil, to this do the seasoning tempering mentioned above. Then saute garlic,onion, salt for some time. Then to this add already stir fry ladys finger for few mins

Now take tamarindpiece and soak the rice washed water that means wash the rice and add this water to tamarind piece. This is called mandi in chettinad side.

Then add tomato and let it cook for 2 mins. When the ladys finger is half cooked add the tamarind pulp. Ad tamarind pulp with of using filter, it cook till the raw smell from tamarind is gone .It needs 20 mins

Now serve this with white rice or with curd rice or main kulambhu. Tasty, spicy vendakkai/ladys finger/okra mandi is ready
Notes
Finally you want thick , add 2 tsp of corn flour , mix well with water add mandi without any lumpss.