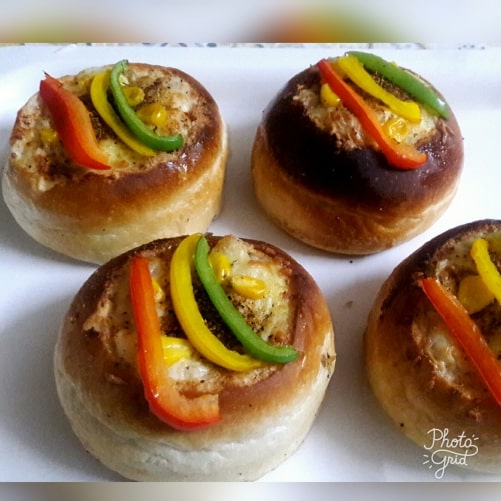 Cheesy Mac Bowls
27 September, 2017
As name suggest Cheesy mac bowls, cheesy macaroni tossed in white sauce, filled in bread buns ,topped with cheese and herbs and baked.
Ingredients  
Bread buns 5

Butter 2 tbsp

Onion 1

All purpose flour 1 tesp

Milk 1+1/2 cup

Salt 2 tesp

Black pepper powder 1/2 tesp

Chilli flakes 1 tesp

Italian mix herbs 1 tbsp

Red pasta sauce 2 tbsp

Macaroni 1 cup

Processed cheese 50 gms

Sweet corn kernels 1/2 cup

Tri color bell pepper chopped 1/2 cup
Instructions 
In a big vessel boil 4 glass of water. When water get rolling boil add 1 tbsp oil, 1 tesp salt, macaroni and sweet corn.

Boil for 10 minutes or till macaroni is done and drain.

Chop onion finely.

In a wok heat butter. Add chopped onion. Saute.

Add all purpose flour and roast.

When flour turns light pink add milk and stir. Cook well to get a thick sauce.

Add chopped bell peppers, 1 tsp salt, black pepper, chilli flakes, Italian seasoning, grated processed cheese. Mix well.

Add boiled pasta and sweet corn mix. Remove from flame.

Scoop out all bread buns to make bowls. Line all bowls with red pasta sauce.

Fill all bread bowls with cheesy macaroni.

Top with remaining Mozeralla cheese. Sprinkle with chilli flakes and italian herbs.

Bake in preheated oven for 10 minutes at 180 degrees.