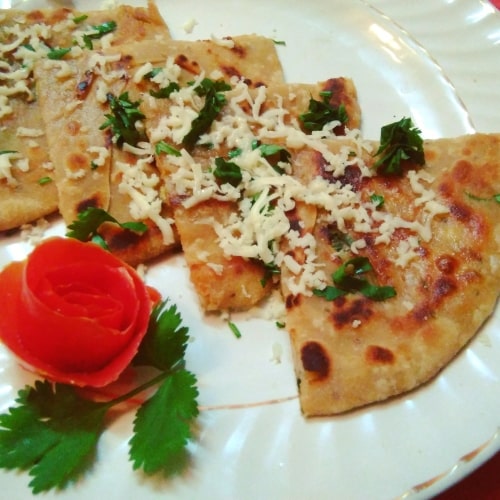 Cheesy Gobi Stuffed Parantha
13 January, 2018
Cheesy Gobi parantha is a fusion food which Is twisted version of cheesy gobi parantha.
Ingredients
For stuffing: Couliflower 2 cup

grated with hand grater

1/2

teaspoon

cumin seeds

Jeera

1/2

teaspoon

redchilli powder

optional

1

chopped green chili

2

tbsp

chopped green coriander

1/2

teaspoon

salt

Oil/ghee

4

Cheese cubes

For dough :- 1 cup wheat flour

Water to knead the dough

Salt 1/2 teaspoon

Ajwain 1/2 tspn
Instructions
Mix flour, salt water and ajwain together to make a soft dough (add water as needed). Set the dough aside to rest for 5-10 mins.

Preparing stuffing:- Cut the couliflower in big florets . And boil 1 litre of water, add one teaspoon salt to it Now switch off the flame dip the coluliflower floret in salted hot water for 2 mins. Drain the water.

Now grate the couliflower with hand grater. Do not use food processor. Squeeze the cauliflower take out as much water as possible. Add all stuffing ingredients together, mix it well.

Making the Paratha Take dough as you take for normal chapati. Roll it into a small circle. Place 3-4 tespn of stuffing in the center, grate cheese over it. To wrap, pull the edges of the rolled chapati

Heat an iron skillet tawa or medium high heat. Press the filled ball lightly on both sides on a surface covered with dry whole wheat flour.Keep the sealed side of the filled ball on top.Roll the ball with a light hand into circle(like normal chapati)

If the dough sticks to the rolling pin or rolling surface, dust with dry flour. Place rolled paratha on the skillet. After a few seconds, the paratha will start to change color and puff up. Flip the paratha over.

After a few seconds, spread one teaspoon of oil over the paratha. Flip the paratha again and lightly press the puffed areas with a spatula. Flip again and press with the spatula making sure the parathas are golden-brown on both sides.

Repeat for the remaining parathas. Keep all the paranthas seprately, so they don't get soggy.