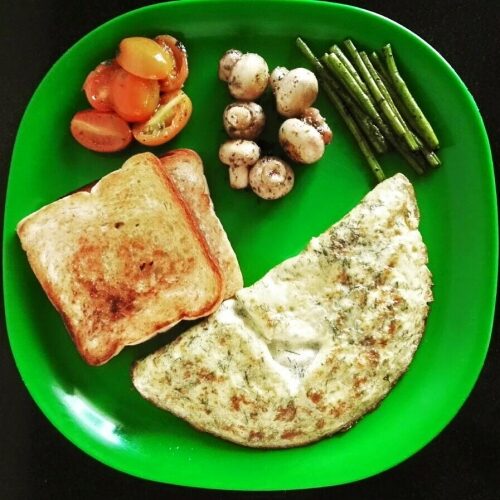 Capsicum And Dill Omelette With Roasted Vegetables
10 December, 2017
Capsicum and Dill Omelette with Roasted Vegetables is an easy to prepare breakfast and is healthy.
Ingredients  
Capsicum/Bell Pepper - 1/2 finely chopped

Dill leaves - finely chopped - 5- 7 twigs

Butter - 1 knob

Cherry tomatoes - 1 punnet

Asparagus - 1 small bunch

6 - 8 florets

Mushroom - 4 - 6

1

small onion finely chopped

Green Chillies - 1 finely chopped

Milk - 2 tbsp

Eggs - 1 yolk and 3 whites

Oregano - 1 pinch

Salt and Pepper to taste
Instructions 
Finely chop capsicum and dill leaves and keep aside

Chop the vegetables for roasting and keep them aside including the spinach

Beat the eggs (both white and yolk) along with 1/2 a knob of butter. Add pepper, oregano and a pinch of salt.

Add the two tablespoons of milk, capsicum and dill and mix well. Pour it on a tava/skillet on medium heat greased with butter

Allow two minutes on either side and fold.

On the same tava/skillet, add the remaining butter and toss the asparagus and allow it to get roasted.

Roast the cherry tomatoes, and sautee the spinach.

Serve all of this hot with a toast by the side
Notes
Yo can also add some cream to the omelette to make it more fluffy. I did not add onions or green chillies for myself but added the same to others. I love the taste of pepper than green chillies.