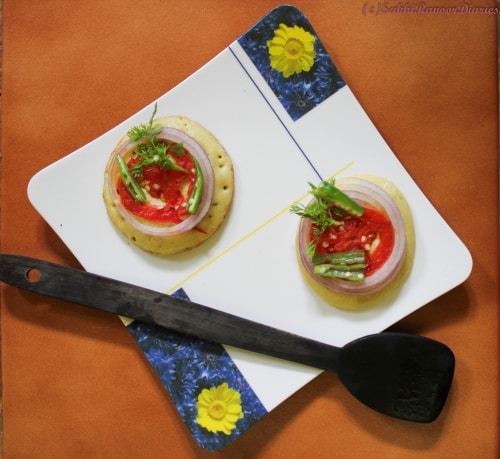 Button Adai Dosa
26 June, 2017
Button Adai is the finger food but made of staple Dosa Batter..!! Since Adai Batter has all ingredients in it and very thick , it is easy to make ds as there is no too much preparation needed even for a dip..!!
Ingredients
Tomato: 1

Onion: 1

Corriander : 1 Strand

Green Chilly : 1

Adai Batter: 2 ladles

which make almost 4 Button Adiais

Salt: To taste

Sugar : Little.

Cumin Seeds: Few

Oil: 4 Table spoons.
Instructions
Cut Onion and Tomato in Round slices.

Preheat a small Tadka Pan, add a half spoon of oil and Put one slice of Tomato each time and tawa fry Mildly without losing the shape and make 4 Tomato slices ready.

Cut one chilly in the middle and take put the seeds and cut as 8 pieces.

In the same tadka pan, without Oil, dry fry Chilli pieces for a minute and keep them aside.

Take Farmz2familiez Adai Batter and add little sugar and salt, Cumin Seeds and mix it well. Avoid adding water.

Then Pre heat the tawa and add a tea spoon of oil in the centre of the tawa and put a half laddle of batter and spread it easy not more than a half Palm Size and close it with lid and gas on higher simmer. Do not make dosa Lumpy, Equally spred battr

As we close he lid, the top of the batter would be a little fluffy and make sure the batter is spread reasonably thick and once done can take out the Button Dosa Out.

One side would be roasted and Other side would be fluf and Yummy.

Try to Place the Sauteed Tomato in the centre and Place two Onion Rings around the Circumference of Dosa with Few Corriander leaves and garnish with Chilli pieces and a pinch of salt on top…!!

This can be eaten as it is. In the Lunch box, Two Button Adai Dosas are kept on each other which look like a burger and fix them with a tooth pick..!!
Notes
Do not add water, add cumin seeds for people with indigestion or gastritis
Close lid when dosa is put on rawa.
Spread dosa Batter not too thick.
A pinch of sugar gives crispness