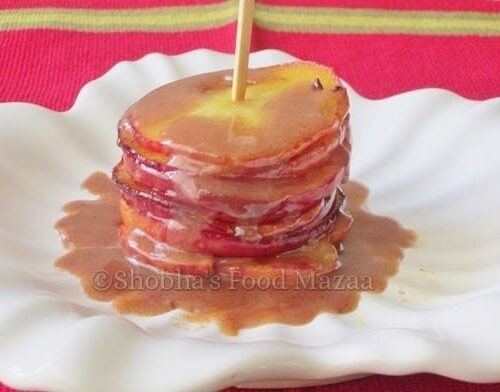 Buttery Apple Slices
Here is a very nice and innovative idea of relishing your apples for a change. It makes a simple and quick dessert for your unexpected guests.and you can also serve these slices with a scoop of vanilla ice cream if desired. I love the cinnamon flavour so I have added a little. You may substitute it with any flavour of your choice like nutmeg, cardamom, chocolate or even add crushed nuts.
Ingredients
Apple - 1

Butter 3 tbsps

Honey 2 tbsps

Milk 4-5 tbsps

Cinnamon powder 2-3 pinches
Instructions
Make thin and round slices of the apple along with the skin using a slicer.

In a pan heat 2 tbsps of butter and fry the slices turning them until they get a golden colour.

To make the sauce heat the remaining 1 tbsp. of butter, add the honey and the milk. Stir it until it becomes thicker like a sauce.

Add the cinnamon powder and mix.

Now arrange the fried apple slices one on top of the other. You can fix them with a satay stick if you like.

Pour the buttery sauce over them and serve warm or chilled.
Notes
You can serve with a scoop of vanilla ice cream.