Brownie Ice Cream Sandwiches
Recipe Taste
Not Specified
Yield / Serves
6 Servings
Try these irresistible bottle gourd brownies sandwiched with walnut chocolate ice cream for that extra kick.
For bottle gourd brownies- Bottle gourd 2 cups
Vanilla essence 1 teaspoon
Cinnamon powder 1/2 teaspoon
Whole wheat flour 1/2 cup
For walnut chocolate ice cream- heavy cream 1 cup
1) To make brownies: a) preheat oven to 350 degree fahrenheit.
b) mix flax meal and water together. Keep aside.
b) Grade the bottle gourd. Add peanut butter, honey, coco powder, vanilla essence, cinnamon and flax egg. Mix well.
c) Shift wheat flour, salt and baking soda over wet ingredients. Mix well.
d) Pour the batter into baking pan. Top it up with some crushed walnuts and bake for 25,30 minutes at 350'F.
e) Once cool down, keep in refrigerator so the crumb sets well.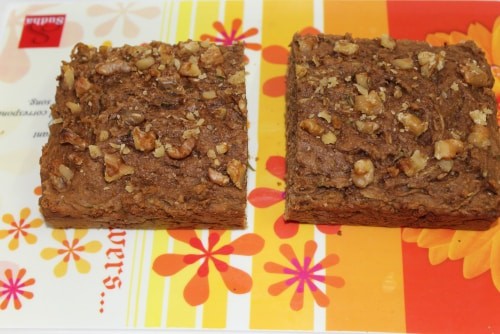 2) Prepare Ice cream- a) Whip heavy cream till soft peaks
b) Grind walnut into a paste. First it will become coarse powder and then with some more grinding it will clump and become paste.
c) Melt chocolate with milk in a pan. And mix walnut paste..
d) Fold in chocolate walnut paste in the whipped cream. Set in freezer for 4,5 hours
3) Assembling brownie sandwiches- a) Carefully cut one brownie half horizontally into two even layers.
b) Spread ice cream over brownie base and carefully sandwich with brownie tops.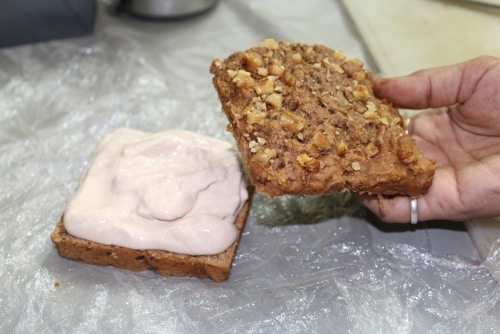 c) Wrap tightly in cling film and place in freezer till ice cream sets.
d) Use a warm knife to cut brownie sandwiches and serve.
To make brownies more fudgie, add some 50 gms of melted chocolate and skip baking soda in brownie recipe.
How useful was this post?
Click on a star to rate it!
Rated 5 based on 3 votes
Be the first to rate this post.