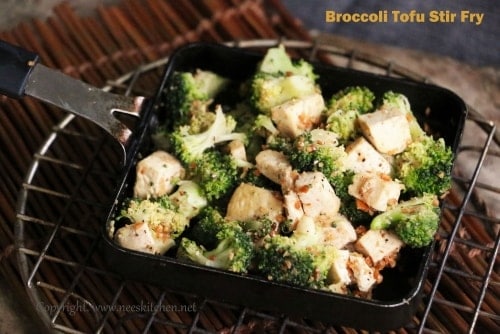 Broccoli Tofu Stir Fry
Broccoli and Tofu is a very good combination in terms of taste and health benefits. This post is about a simple Broccoli and Tofu Stir fry which is crunchy & light but extremely healthy. This recipe is ideal for all age groups.Broccoli has low content of carbohydrates, protein, fat, and dietary fiber. Tofu on the other hand is high in protein. For this recipe choose "Firm Tofu" as we are going to make a crunchy veggie today. The tofu pack would mention the variety of tofu.
Ingredients
Broccoli – ¾

Firm Tofu – 150 gms

Olive Oil – 1 tblsp

Salt to taste

Pepper – ½ tsp

Garlic – 5 – 6 cloves

Roasted Powdered Peanuts – 1 tblsp
Instructions
Wash and soak broccoli in water for 5 minutes. Squeeze the water from the tofu. Cut broccoli as individual florets. Cut Tofu as cubes and slice garlic.

Take a pan and add olive oil. Add garlic and let it fry for a minute.

Add tofu and broccoli and mix well with oil.

Add salt and pepper.

Let this cook until the raw smell in the broccoli leaves and it becomes crunchy. When the broccoli becomes crunchy the tofu would have cooked very well. This is the right consistency.