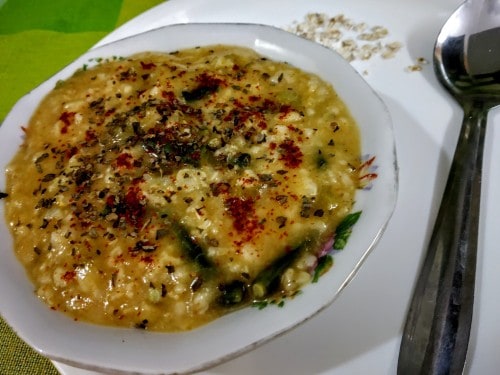 Breakfast Meal
27 September, 2018
Oat meal is a very good balanced breakfast diet. 29th October is a National Oatmeal day. We should always buy gluten-free product. It is naturally gluten-free, easy to dissolve. Helps to lose weight, can lower cholesterol level and blood sugar level.
Ingredients
1/2

cup

oat

1/4

cup

chopped capsicum

1/4

cup

chopped beans

1/4

cup

chopped cabbage

2

tbsp

chopped carrot

2

tbsp

spring onion

1

tsp

chopped garlic

1

tsp

ginger powder

1

tsp

smoked chilli powder

1

tsp

lemon juice

Salt to taste
Instructions
Add 1 glass of plain water or vegetables stocks in a pan, bring to start boiling then add oat.

In another frying pan add butter and garlic just saute. Add all chopped green vegetables and salt.

Make the vegetables lightly sauted, then pour into the stocks.

Cook for some minutes. Now add ginger powder, smoked chilli powder

Put off the flame, add lemon juice, and dried mixed herbs. Serve hot this healthy breakfast meal.
Notes
Good for school going kids.and office going fellows.