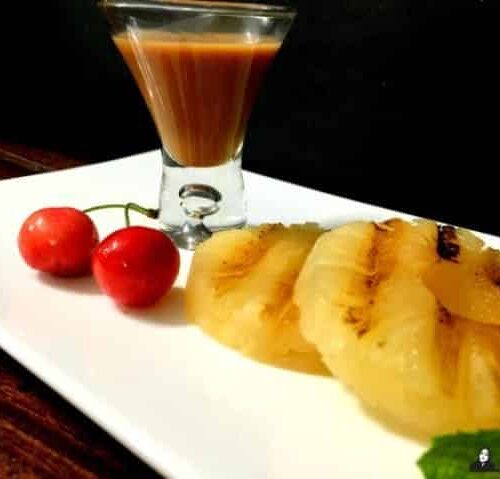 Brazilian Grilled Pineapple With Coconut Caramel Sauce
Coated pineapple slices in a delectable mix of brown sugar and cinnamon and grill them to delicious, juicy perfection ,served with smooth and silky Coconut Caramel Sauce.
Ingredients
Pineapple slices- 08 nos.

Cinnamon

coarsely ground- 1 ½ tsp.

Brown sugar- 1/4th cup

Butter- 01 tsp.

Olive oil – to brush the grill.

For the garnishing: Fresh Mint leaves- 08 nos.

For the Presentation: Fresh cherries- 16 nos.

For the accompaniment- Coconut Caramel Sauce:

Sugar- 01 cup

Water- ½ cup

Coconut milk- ½ cup

Coconut cream- ¼ th cup
Instructions
Preheat an outdoor grill for medium-high heat and lightly oil it. Whisk brown sugar, cinnamon & butter together in a bowl. Pour sugar mixture into a large resalable plastic bag.

Place pineapple slices /wedges in bag and shake to coat each slice/ wedge. Grill pineapple slices on the preheated grill until heated through, 03 to 05 minutes per side.

For the Sauce: In a small saucepan, add sugar with ½ cup of water. Bring to a boil. Cook till light golden, honey like. Remove from the flame and add coconut milk and Coconut cream. The mixture will start bubbling, whisk very gently

For the serving: Serve grilled garnished with mint leaves and accompanied with Caramel coconut sauce.
Notes
You may cut the pineapple into wedges instead of keeping it whole.
You may add lemon juice and honey to further enhance the flavor.
You may add dark rum, enhances the flavor.