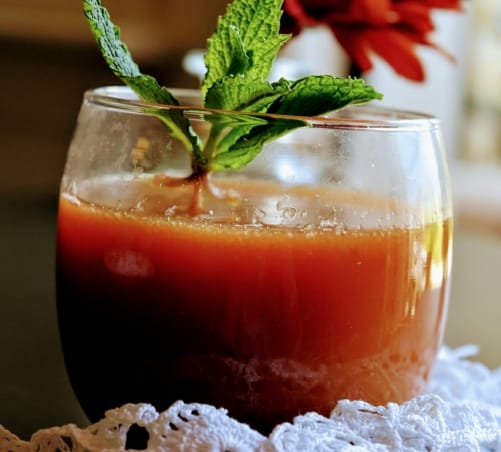 Bottle Gourd (Lauki) Punch
15 June, 2017
Gaining weight is the most easy thing to do but it is three times difficult when it came to loosing weight. Burning calories, work out is usual way for loosing weight but at the same time keeping a close look on diet is necessary as well. I love home made detox drinks , fruit or vegetable punch when I am dieting. It is easily available and easy to made. Today 's pick is Bottle gourd punch. Bottle gourd, slice of carrots, apple and refreshing mint leaves with pinch of rock salt and pepper. Bottle gourd is high in fiber and water content vegetable that has low calories.Carrot and apple are also good source of antioxidant agents and rich in fiber, vitamin and minerals. Rock salt and pepper gives taste as well they also has some health benefits. Mint is always good for digestion and promotes a good bowl movement.This bottle gourd punch gives fullness in your stomach and allows nothing to go into the stomach to reduce the weight and speed up the metabolism rate to fast up the weight lose.
Ingredients
1

cup

bottle gourd peeled and diced

1/2

cup

carrot peeled and diced

1/2

cup

apple diced

1

tsp

black pepper

4 -5

mint leaves

Rock salt for seasoning
Instructions
In a blender or a food processor blend all ingredients. Then strain the vegetable - fruit puree in a strainer very well. Drink this juice before breakfast or as evening snack .