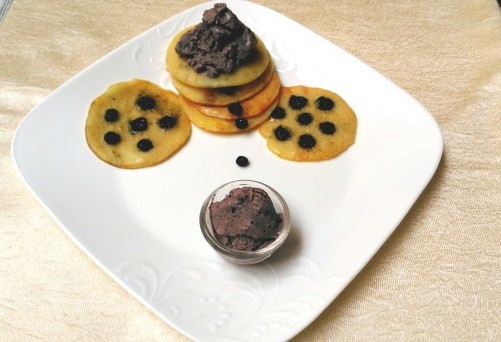 Blueberry Pancake
15 July, 2017
It was a weekend I was sitting in my veranda and was searching some ideas of American recipes. I had kept blueberries in my fridge. I asked my daughter "Do you like to have blueberry pancake". She agreed but how ? I said wait let me try. She said "blueberry ice cream also in fridge which you made". Then I thought both will be good combination. I know American people like blueberry recipe. Then I started making. "New research from South Dakota State university suggests that frozen blueberries deliver a bigger dose of disease fighting antioxidants than fresh. Frozen or not blueberries have one of the highest antioxidant capacities among all fruits and may boost memory, cardiovascular system and eyesight.
Ingredients  
Refine flour 2 cup

Baking powder 1/2 tsp

Sugar 1/4 tsp

Pinch

of salt

Whole milk 2 cup or as required

Unsalted butter 1/2 cup

Blueberry ice cream
Notes
Blueberry ice cream also made by me. It is a good combination.