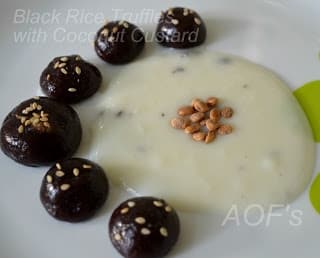 Black Rice Truffles With Coconut Custard ( The Vegan Attakali )
25 December, 2016
The authentic attakal' consists of rice balls immersed in a rice custard (more like a phirni). It is quite low in calories as compared to other desserts and is usually prepared on certain festive days. In my recipe, I have used two varieties of rice. The black or purple rice from Manipur is used to create the rice balls and the sweet smelling Gobindo bhog from Bengal is cooked in coconut milk to create a vegan custard. The nuttiness of the black rice complements the sweetness of the Gobindo bhog to build a unique flavor. This is a vegan version of the 'attakali'.
Ingredients  
For black rice balls - 1/2 cup Black

Manipur rice

3-4

tsp

jaggery

2

tsp

almond paste

optional

a pinch of cardamom

toasted sesame seeds for garnishing

For Coconut custard - 3 tsp Gobindo bhog rice

one can use Jeera rice instead

2

cup

coconut milk

2-3

tsp

sugar

2

pinch

white pepper powder

Toasted charoli seeds
Instructions 
Wash and soak the two rice varieties separately .

Grind the purple rice into a fine paste without using too much water. Add the jaggery and grind it again. Keep aside. Grind the Gobindo bhog rice separately.

For making the rice balls, boil about 1/4 cup water in a wok.

Add the purple rice and jaggery paste. Cook on low to medium flame as it thickens.

Once it starts to solidify, add the almond paste and the cardamom powder. Remove from the flame and keep aside it is bearable to touch the dough.

Rub a few drops of oil on the fingers and knead it again. Divide the dough into small portions and shape into balls by rolling between the palms.

Sprinkle toasted sesame seeds on a plate. Roll these balls gently on the seeds.

For the coconut custard, bring the coconut milk and sugar to a gentle boil. Add the Gobindo bhog rice paste and keep stirring it till it thickens to a thin custard like consistency.

Add the powdered white pepper and toasted charoli at this stage. Mix it in. Remove from the flame. Let it cool down before popping it into the fridge for 15 mins.

Serve the rice balls (at room temperature) with a dollop of the chilled coconut-rice custard.