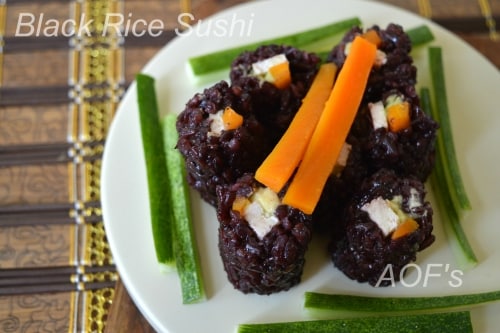 Black Rice Sushi
2 January, 2017
Black Rice Sushi is a very healthy and vegan version of the Japanese delicacy. Made with a filling of tofu, avocado, carrot and cucumber, it is low on calories as well as quite filling due to the black rice. This is one recipe that can easily be made a part of one's lunchbox. I am skipping the Nori sheets as I want to keep it completely vegan.
Ingredients
1

cup

sticky Black rice

1

small carrot

cut into long pieces

1

small cucumber

cut into long pieces

Tofu

cut into long pieces

avocado

cut into long pieces

1

tsp

apple cider vinegar

use rice vinegar if you have it

a drops of soy sauce

1/2

tsp

water

1/2

tsp

honey

salt taste
Instructions
Soak the black rice overnight.

Steam the carrot pieces till tender.

Mix the vinegar, soy sauce, honey, water and salt for making the 'Tezu' .

Cook the black rice till it is slightly mushy. Add the tezu and mix it in. Allow to stand till it cools down and is just bearable to touch.

Take a aluminium foil and spread some of the black rice in a rectangle shape keeping about 1 1/2 - 2 inch space from the margins.

Place the tofu and the vegetable slices in the center of the rectangle. Lightly moisten the edges of the rice.

Gently grabbing the foil from the sides and using your fingers, roll it over keeping the vegetables in the center. Roll over a few times . Remove the aluminium foil.

Take a very sharp knife, moisten it and cut the sushi into 1 1/2 inch sized pieces.

Serve it with pickled ginger, wasabi and soy sauce.