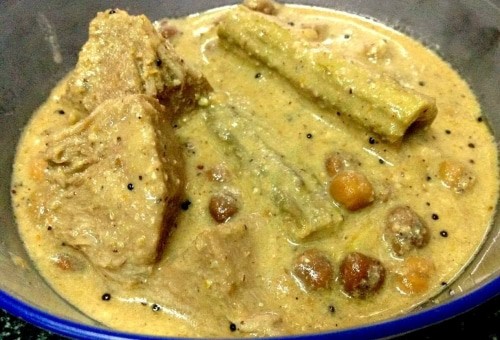 Chane Ghashi (Black Chickpeas In Coconut Gravy)
Chane Ghashi is a traditional GSB Konkani preparation. 'Chane' is the Konkani word for Chickpeas and 'Ghashi' means a spicy coconut based curry. It is included in the menu for religious and social functions. In this recipe, Chickpeas are cooked in a flavourful coconut gravy along with raw Jackfruit. In case Jackfruit is not available, potatoes or yam can be used as substitute. It is a versatile dish and can be served for breakfast as an accompaniment to dosas or appams or in main meals along with rice or chappatis.
Ingredients
Black Chickpeas- 100 gms

Coconut – Half

grated

Dry Red Chillies – 5-6

Tamarind – Marble sized ball

Coriander seeds – 1 tbsp

Split Urad Dal seeds – 2 tbsp

Raw Jackfruit – 200 gms

cut into medium sized pieces OR 2 medium sized Potatoes cut into large cubes

2

Drumsticks - Cut into pieces of 2"

Mustard seeds – 1 tsp

Curry leaves – 1 sprig

Cooking oil

preferably Coconut oil
Instructions
Soak the chickpeas overnight. Pressure cook the soaked chickpeas for 15 minutes on sim after the first whistle.

In a deep vessel, add the Jackfruit/Potato pieces, Drumstick pieces and enough water to cover them. Cook these till they are tender. Once done, add the cooked chickpeas and keep aside.

In a non-stick pan, heat 1 tsp of oil. Add the coriander seeds and dry red chillies and roast them on low flame for a minute. Transfer these to a plate. Next, add the urad dal. roast them till they turn light brown and remove them when done.

Heat a tsp of oil in the same pan, add the grated coconut and roast it on low flame, till it turns golden brown. Stir intermittently so that it browns uniformly.

Blend the roasted coconut, red chillies, tamarind, roasted coriander seeds and urad dal to a fine paste.

Add the masala paste and salt to taste to the vessel containing the chickpeas and vegetables and mix well. Bring it to a boil and cook on medium flame for about 10 minutes, with intermediate stirring.

For the tempering: Heat 2 tbsp of oil in a tempering pan, add mustard seeds and after they crackle, add the curry leaves . Transfer the tempering to the curry and cover the pan so that the flavour of the tempering gets infused into the curry.