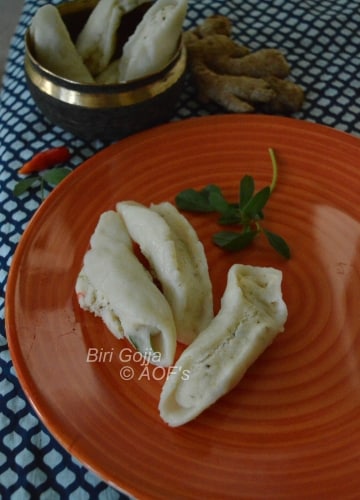 Biri Gojja ( A Steamed Savoury Delicacy )
17 June, 2017
Biri Gojja belongs to the minority category of savoury pithas. While most of the Odia pithas are more or less on the sweeter side, some like the saru chakuli, poda pitha (the Western Odisha version), sada enduri (without stuffing) and biri gojja fall into the exceptions category.
Since I do not have a sweet tooth, I am naturally inclined towards the latter and love to have then with a nice curry like Ghuguni, alu dum or even Mutton/Chicken curry.
Ingredients
For the stuffing
2/3

cup

black lentil

skinless

1-2

green chilis

finely chopped

1

sprig

curry leaves

finely chopped

Black pepper

coarsely crushed

Salt

to taste

1

inch

ginger

finely crushed
Instructions
Soak the rice for 10-15 mins. Wash and drain all the water ( Use a colander, do not dry under the fan or the sun ). Put in a grinder and grind into a fine powder.

Wash and soak the black lentil for 2-3 hours. Grind into a smooth and thick paste. Season it with salt, pepper, curry leaves and green chilis.

Bring the water to boil. Add salt. Add the rice flour in small batches and mix continuously so that no lumps are formed.

Stir the mixture on a low flame for about 15 minutes till it takes on a softer consistency than the dough used for making rotis. Sprinkle the ghee and mix in . Switch off the flame at this stage.

Allow the dough to cool down a few degrees till it is tolerable. Rub ghee all over your hands and knead the dough for 5 mins to make it smoother.

Rub some more oil over your hands. Pinch small lumps out of the dough. Roll each lump into a ball and gently pat it to flatten it out into a circle.

Put some of the black lentil dough on one half of the circle and fold the other half over it. Press it gently to close on the sides but keep the middle portion slightly open. (This ensures that the batter gets cooked thoroughly during steaming).

Boil water in a idli maker/steamer. Spread some banana leaves/thin cloth over the idli plates. Put the gojjas/dumplings over the leaf/cloth. Close the lid and steam 25-30 mins. Allow to stand with lid covered for 5-10 mins.

Take out of the idli vessel/steamer and serve warm.
Nutrition
Calories:
181
kcal
Carbohydrates:
36
g
Protein:
7
g
Fat:
1
g
Saturated Fat:
0.3
g
Polyunsaturated Fat:
0.1
g
Monounsaturated Fat:
0.2
g
Cholesterol:
1
mg
Sodium:
155
mg
Potassium:
44
mg
Fiber:
4
g
Sugar:
0.1
g
Vitamin A:
10
IU
Vitamin C:
6
mg
Calcium:
25
mg
Iron:
2
mg