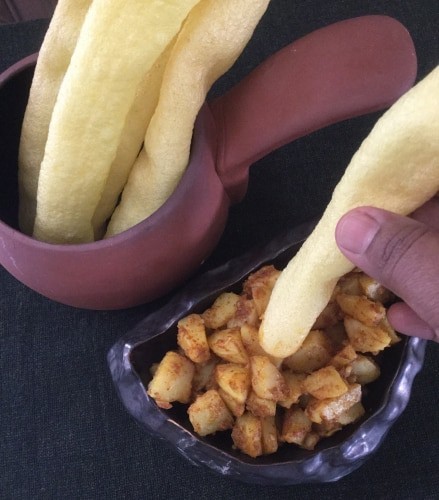 Bhoongla Bataka
14 May, 2018
Bhoongla Bataka, as the name seems so funny, as than the technique of eating is more funny. This recipe is a very popular recipe of Bhavnagar city, located in Gujrat state. Too Spicy and crunchy. One should definitely try this easy recipe.
Ingredients  
Potatoes - 200 gms

boiled, skinned and diced

Long Pipe shap rice fryums - 50 gms

Turmeric powder - 1/4 teaspoon

Coriander powder - 1/2 teaspoon

Garam Masala - 1/4 teaspoon

Red chilli powder - 1 teaspoon

Salt-1/2 teaspoon

Oil - 1 tablespoon and for frying
Instructions 
Notes
*How to eat this Bhoongla Bataka ?
Ans:- Wear a Bhoongla   (pipe fryum)  in a finger from one side, and press in Bataka mix ti fill masala. Take out and have it.
#One can fill whole pipe by Potatoe mix and eat, but it will not be remains crunchy  there chance of become soggy in end part.