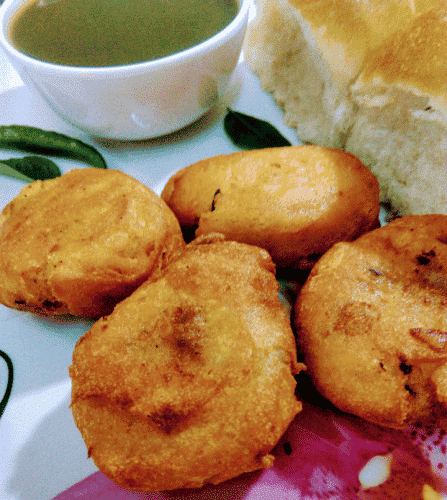 Besandwari Patateji Tikki ( Masala Aloo Mixture Dipped In Chickpea Flour Batter )
By definition, Street food is prepared or cooked food sold by vendors in a street or other public location for immediate consumption. Hence, very often its unhealthy and comes in the "Junk Food " category. But, still it reflects the culture, eating habits of the particular place and community. It maps out the geography of the people, telling us history of their ancestors in far off places. I am sharing A very popular Street food of my Sindhi town., Besan Aloo Tikki. It is a part of our Sindhi cuisine and is made when one is feeling indulgent or for guests over unannounced. It is very tasty of course, as all such food tends to be. By making it at home, at least a few parameters like hygiene and quality are controlled. Please do not confuse it with the Famous Bambaiya Batata Wada...though I am inclined to believe, they just might be distant cousins. 🙂
Ingredients
For the Batter- Besan

1 cup

Salt to taste

red chilli powder

1 teaspoon

Water as needed

For the Mixture- 2 large potatoes

boiled and mashed

green chillies

2, finely chopped

garam masala powder

1/2 teaspoon

Salt to taste

1

teaspoon

red chilli powder

1/2

inch

ginger

grated

curry leaves

8 to 10

1

tbsp

green coriander leaves

chopped
Instructions
For the Besan Batter- Take the besan in a bowl.

Add salt and 1/2 teaspoon red chilli powder.

Slowly, Add in the water and make a thick paste-batter

Take the mashed potatoes in a plate or big bowl

Add salt, 1/2 teaspoon red chilli powder, chopped green chillies, garam masala, grated ginger, curry leaves, green coriander leaves.

Mix it well.

Make a number of small balls using up all the potato mixture.

Heat oil for deep frying in a pan.

Dip each ball in the besan batter

Let it be coated well.

Deep fry till only half cooked.

The colour should be lightish only.

Drain in a sieve.

Fry all the potato balls like this.

Now, slightly flatten each ball.

Deep fry again, on low flame.

Let the colour change to golden brown

The corners will turn crunchy.

Remove on tissue paper.