Recipe Taste
Not Specified
Yield / Serves
4 Servings
Goodness of beetroot and veggies makes this bread healthy, tasty and colourful.
1/4 cup mozzarella cheese
Preheat oven at 180°C. Grease a tart mould with some butter and dust with some flour. Take fresh yeast in a bowl. Add sugar and 1/2 cup of warm water, mix and set aside to activate.
Sieve flour in a bowl. Add salt, milk pwd, and mix. Make a well in the center, add activated yeast and mix well.
Add some warm milk and water and knead into a soft dough.Dust some flour in another bowl and transfer the dough. Cover with cling film and prove for 30- 40 minutes.
Chop the veggies in small cubes. Heat a pan add oil and butter, add the veggies saute for 2 min. Add chilly pwd, white pepper pwd and pizza seasoning ( don't add salt right now otherwise it will get soggy ) Remove from heat and cool.
Dust the worktop with some flour, transfer proven dough and knock back to release air. Put butter and knead into a soft dough. Dust some flour and knead again.
Dust the worktop with some flour, take a medium portion of dough and roll out to make a thick sheet. Line the greased tart mould with the sheet, covering the edges as well.
Apply tandoori mayo on the sheet Now add salt to the stuffing and mix well. Put the stuffing in lined tart mould and level it out, spread some cheese over it.
Dust the worktop with some flour and roll out the medium dough portion to make a thick sheet. Place the sheet on top of veggie mixture, covering it.
Discard the excess dough from the mould using a knife and lightly pinch edges to seal. Set aside to prove for 30 minutes.
Put the mould on a baking tray. Place the baking tray in preheated oven and bake for 15-20 minutes.Remove from oven, brush some butter on top and cool.
Demould and transfer the tart bread onto a serving platter. cut into wedges and serve.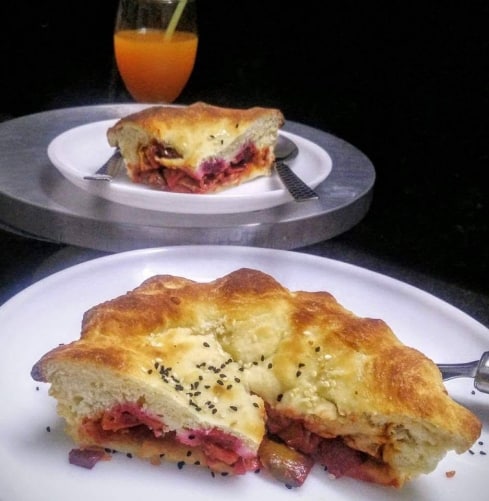 How useful was this post?
Click on a star to rate it!
Rated 4.3 based on 3 votes
Be the first to rate this post.