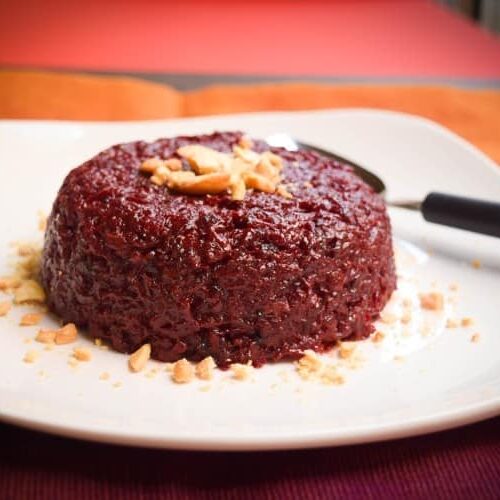 Beetroot Halwa Infused With Vanilla Cardamom Flavors
Beetroot Halwa infused with Vanilla Cardamom Flavors,is a quick and easy Indian Beetroot Pudding,a traditional South Indian sweet dish,especially popular in Bengaluru, which can be enjoyed either hot or cold. Traditionally, this halwa is made using condensed milk(known as khoya in India) and ghee, with  lots of dry fruits. However, this recipe is a healthier, lighter version and used reduced fat milk, flavored with ghee which tastes very nutty like browned butter, but without being too creamy. When using reduced fat milk in place of milk,the mixture needs to be simmered at medium flame till it thickens and reaches the consistency of a pudding.But trust me its worth the effort as you will get, "A little taste of heaven in every bite."
Ingredients
4

cups

peeled and grated beetroot

4

cups

milk

1/4

cups

desi ghee or clarified butter

1

tsp

cardamom powder

1

tsp

vanilla extract

1

tbsp

thinly sliced or chopped cashews

10-12

raisins

2/3

cup

fine granulated sugar
Instructions
Boil the milk in a saucepan and let it simmer till the milk reduces to half.

Heat the ghee in a non-stick pan and saute the beetroot for 5-8 minutes, at low medium heat, so that it loses all its moisture.

Add the milk and bring the mixture to a boil. Lower the heat and let the mixture simmer till all the milk evaporates. Stir and mix in between, especially when the milk comes to a frothing to avoid the mixture sticking to the bottom of the pan.

Once the mixture thickens and the milk evaporates, add the cardamom powder, vanilla extract and the sugar. Stir and mix and let the liquid evaporate. Turn off the gas and garnish the beetroot halwa with cashews and raisins.