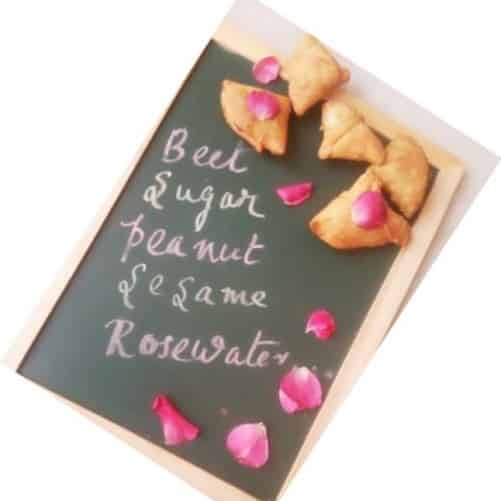 Beeta- Meetha Gulab Samosa / Beetroot And Rose Sweet Samosa
Expression of love through food is purely showing care for our friends and family. To make this Valentine's day more memorable , here's a healthy and yummy samosa. We are aware of the savoury - filled Samosas ( Indian Snack) , but here I presented a healthy and unique twist to it by adding 'Beets and Roses.' Do try this Beeta-Meetha Gulab Samosa on this Valentine's day!
Ingredients
All purpose flour - 1 cup

Baking soda - 1 pinch

Hot oil - 1 tablespoon

Salt - 1 pinch

Water - 6 tablespoon

Grated and Roasted Beetroot - 1/2 cup

Roasted peanut powder - 1/2 cup

Roasted Sesame- 1/2 cup

Sugar - 1 cup

Home made Rose water - 1/2 cup.
Instructions
Take the flour, salt and baking soda in a bowl. Mix them well.

Add hot vegetable oil to it. Knead it into a stiff dough by adding little by little water. Keep it aside.

Preparation of Rose water - Heat a vessel in low flame. Pour 1 cup of water and 1/2 cup of fresh rose petals. Boil it till it reduces to half of the cup.

Filter the rose petals out of the water.

Preparation of Filling - Place another vessel on the stove, add a cup of sugar to that. Stir well till the sugar syrup changes into string consistency.

Now add peanut powder,sesame powder and beetroot one after the other. Stir it well until the mix does not touch the vessel.

Once the stuff is prepared, keep it aside.

Preparation of Samosa - Divide the dough into pieces and prepare smooth balls out of it.

Now apply little flour and roll them into round shaped puris. Cut into two semi-circles.

Apply water on the edges. Shape into a cone by folding it from both sides.

Place the prepared stuff into these cones and seal the edges well to form samosas.

Heat oil in a pan over medium flame. Add the samosas and deep fry them on low to medium flame till they turn golden brown and crispy.

Once fried ,drain onto absorbent paper.