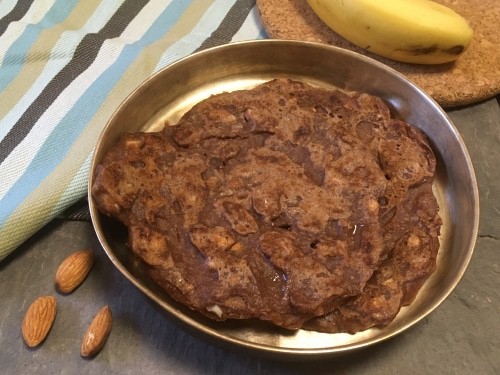 Banana Ragi Dosa With Almondmilk
4 May, 2018
BananaRagi Dosa is a healthy dessert option.This recipe is adapted from banana dosa recipe that served in several restaurants in Chennai. Those banana dosa cooked using rice flour and all purpose flour & milk, here I have used Ragi flour (finger Millet flour) , brown rice flour & almond milk to make it healthier, Usually weight watchers avoids dessert, this ragi bananadosa could be perfect choice for them to enjoy the delicious dessert which is healthy as well. Bananas are rich in fiber , high fiber intake is linked to reduced body weight and also has several health benefits. Ragi benefits in weightloss in an unique way, a special amino acids in Ragi helps in curbing appetite.It's very rich in fiber and low in unsaturated fats both are necessary factor for weight loss I have used almond milk to mix the flour and prepare batter for Ragi banana dosa . Now let's see how to prepare Ragi banana dosa....
Ingredients  
Ragi Flour/ Finger Millet - 3/4 cup

Brown Rice Flour - 2 Tbsp

Banana - 1

Almond Milk - 3/4 cup

Almonds - Chopped 2 Tbsp

Olive Oil - 2 Tsp

Palm Sugar - 2 Tbsp
Instructions 
Add the chopped almonds and mix well. Batter ready.

Now heat a nonstick pan grease it with little oil.
Notes
You can also use chopped walnuts too
Soyamilk can be good replacement for almond milk
Honey can be good accompaniment for this dosa