Baked Raw Banana Samosa Chat
Yield / Serves
3 Servings
2 small or 1 1/2 cups raw banana boiled, peeled and cut into small pieces
1/2 cup Green peas boiled
1 tablespoon Oil + more for brushing the shaped samosa
1 teaspoon Ginger paste or freshly grated or crushed
2 Green chilies chopped finely
2 tablespoons Cilantro or coriander leaves chopped
1/2 teaspoon Turmeric powder
2 teaspoons Red chili powder
1/2 teaspoon Anardana powder (dried
1/2 teaspoon Garam masala
1-2 teaspoons Lemon juice
For outer crust: 1 cup Whole wheat flour (Chapati atta)
4-6 tablespoons Water or as needed
4 tbsp khajur imli ki chutney
4 tbsp finely chopped onions
4 tbsp finely chopped coriander
Making stuffing: Heat the oil in a pan on medium heat.
Once hot add cumin seeds and let them sizzle.
Then add sesame seeds and let them pop
Now add ginger paste and green chilies. Saute for 30-40 seconds
Now add coriander leaves and mint leaves. Saute for 30 seconds
Lower the heat and add turmeric powder, red chili powder and anardana powder
Immediately mix it and saute for 10-15 seconds. If it starts burning, add splash of water.
Right away add cooked peas and banana s along with salt. Mix well and cook for 2-3 minutes.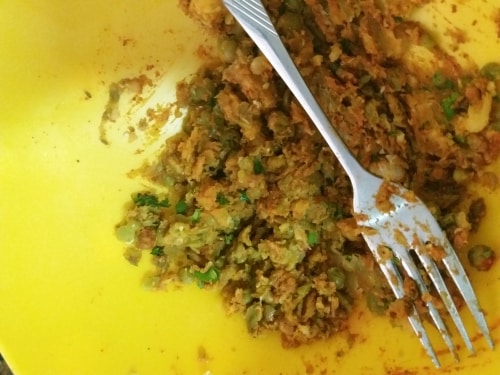 Now add garam masala powder and mix.
Lastly add lemon juice. Alternately you can add 1/2 teaspoon of amchur powder.
Making the dough: Take whole wheat flour, salt, baking powder and ajwain in a bowl. Mix.
Add oil. Start rubbing between your fingers and thumb and keep mixing till everything is incorporated well. You will have very crumbly mixture and if you press little amount together, it may form a ball.
Now start adding little water at a time and make smooth dough
Make sure that dough should not be too soft like paratha/roti dough and it should not be stiff. It should be in between consistency
Cover it and let it rest for 15 minutes.
After 15 minutes, knead it again for 2 minutes to make it smooth.
Making baked samosa Before you start shaping and filling, line a baking dish or tray with aluminium foil. Or lightly spray or grease the tray.
Also pre-heat the oven to 375 degrees F or 190 degrees C for at least 10 minutes.
Now work with one half circle at a time. Apply the water around the edges using brush or fingertips.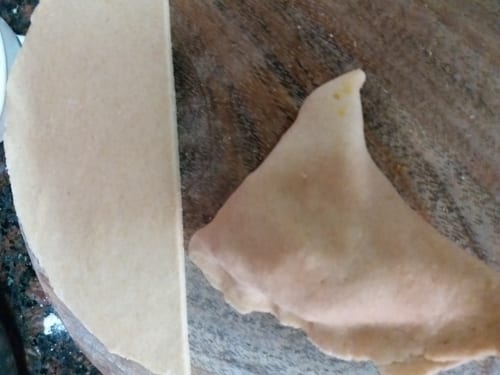 And make cone shape by folding and overlapping slightly. Press it and seal that part properly. Since we applied water it will stick easily.
Put the two three spoonful of stuffing in it. Do not over-stuff.
Apply the water on the inside edges of the cone. And press it to seal properly.
Arrange them on prepared tray and keep it covered with kitchen towel so they do not dry out.
Now brush them with oil generously. Flip them brush the other side as well.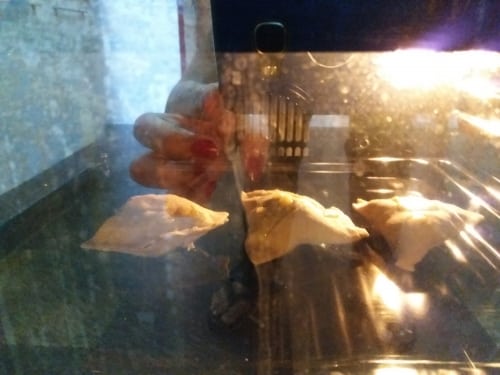 Bake into pre-heated oven for 15 minutes. Then remove the tray flip them and again bake for 10-15 minutes. All together you will need to bake them 25-30 minutes by turning halfway through.
Take 1 samosa, roughly break it into small pieces and place in a bowl
Pour 1 tbsp khajur imli ki chutney, 1½ tsp green chutney, 1/2 tsp red garlic chutney, 1 tbsp of onions and 1 tbsp of sev evenly over it.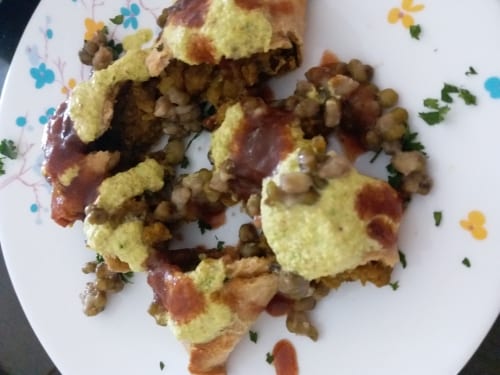 Finally sprinkle the coriander evenly on it.
How useful was this post?
Click on a star to rate it!
Rated 5 based on 1 votes
Be the first to rate this post.