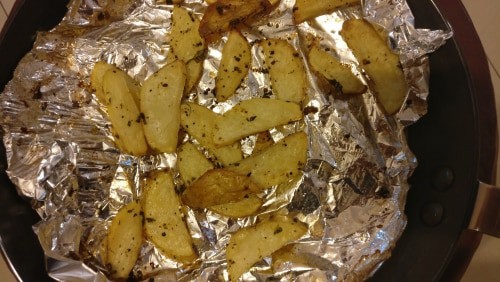 Baked Potato Wedges
30 May, 2017
Potato Wedges from KFC is a hit among kids and adults. Crispy outside and moist and soft inside, goes well with Burger, Hot Dogs or grilled sandwiches. But of-course We cannot eat deep-fried calorie loaded (Kfc - Potato Wedges Small has 270 calories) junk food every now and then. So here is the healthier version of the crunchy, spicy and tasty Potato wedges, which you can munch guilt-free anytime, anywhere.
Ingredients
Potato - 2 Big scrubbed and cut into eights

Olive Oil 2 tablespoon

Oregano 1/2 teaspoon

Himalayan Pink Salt 1/2 teaspoon

Garlic Powder 1 teaspoon

Crushed black pepper 1/2 teaspoon

Parmesan cheese 1 tablespoon

Optional
Instructions
Clean and cut the potatoes into eight and keep it aside.

Take salt, I prefer Himalayan pink salt for better health benefits you can use normal table salt. If you are using normal table salt, add 1/4 teaspoon more as you need less Himalayan pink salt.

Add in crushed pepper, oregano, garlic powder, Parmesan Cheese (which I usually avoid) for Home because its absolutely fine if I don't add it and avoid few extra calories.

Add all of the above dried ingredient into olive oil and stir it with the spoon. Pour this dressing on cut potato and let it sit for 5 minutes.

Meanwhile, preheat the oven to 220 degree C.

Spread the Potatoes on an aluminium foil and let it bake for 10 minutes. Check after 10 minutes and bake it for 5 more minutes to make them crispy.

Serve with Tomato Ketchup or Mayo sauce.