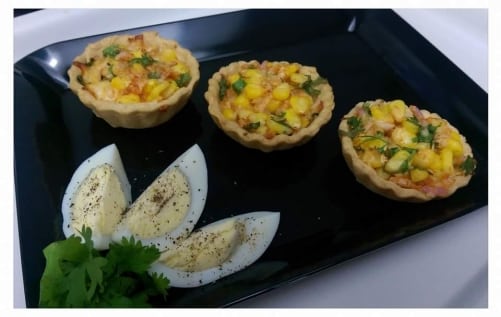 Baked Corn Chaat
21 October, 2017
This is fusion recipe, taking the corn chaat to another level by filling it in a short crust pastry and topping with cheese, and then baking it.
Ingredients  
For the tart cases : Flour - 1.25 cups

Butter - 1/2 cup

Ice water - 3 tbsp

Boiled corns - 1/2 cup

Grated cheese - 2 tbsp

Chopped onion - 1

Red chilly powder - 1 tsp

Salt

Coriander leaves
Instructions 
In a food processor or mixer, add the cold butter (the butter must be cold and cut into cubes), flour and pulsate in two or three pulses.

Add the ice water and pulsate or blend till everything is mixed. Pour the dough into a bowl and mix it, cover it and keep it refrigerated for 30 minutes.

Now roll out the dough and cut small circles using a cookie cutter and line the muffin tray cups with them. Blind bake them in a preheated oven at 180¢â€žÆ' for 30 minutes. (Blind baking is baking the tart cases by putting a baking paper on top of tarts a

Now make a mixture of the corn kernels, onion, cheese, red chilly powder, coriander leaves and salt. Fill the tart shells with the corn mixture and bake them at 200¢â€žÆ' for 10 minutes. Serve.