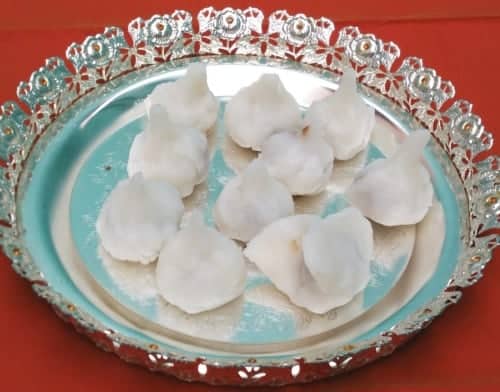 Aval Pooran Kozhukattai / Poha Modhak
Instead of making pooran fully with coconut, for a change I tried this Aval Kozhukattai that needs a little coconut. It came out very well and the aval/ poha helps to absorb the jagerry in pooran when it melts during steaming. So the Kozhukattais come out perfectly without any juice coming out and looks pure white..
Ingredients
For Pooran:

Thin Aval / Poha 1 cup

Grated coconut 1/2 cup

Jagerry / vellam powder 1 and 1/4 cup

Cardamom / Elakkai powder 1/2 tea spon

Ghee 2 tea spoons

For the Outer cover:

Rice flour 2 cups

Water 6 to 7 cups

Salt 1/4 tea spoon

Oil 2 tea spoons
Instructions
Pooran: Add the Aval and grated coconut and mix well. Add ghee, cardamom powder and keep stirring till it becomes thick, and comes out rolling without sticking to the pan.

Switch off the stove. Once it gets cooled down make small marble size balls of it and keep aside. (My Pooran is looking dark, since I used organic unrefined jaggery)

Outer cover dough: Mix two cups of rice flour in water like rawa dosa batter consistency. Add little salt and two tea spoons of oil to it. Heat a pan.

Pour the rice flour batter into it and stir it continuously. Stir till it becomes tight like a Chapati dough. Switch off the stove.

How to make Modhaks? Take a big goose berry size balls of rice dough and grease the ball with a drop of oil. Make small cups of it and put the pooran balls inside.

Bring the edges to the centre and seal them. Place the Kozhukattais in a greased idli plate and steam them for 10 minutes.