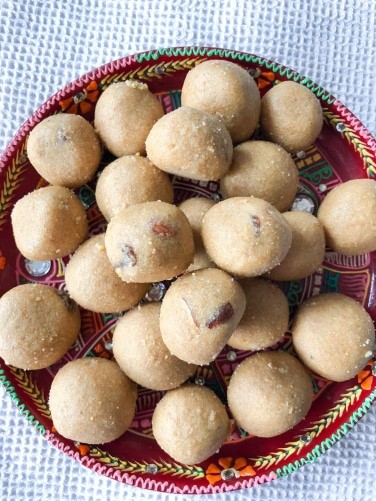 Atte Ki Pinni
25 January, 2018
Atte ki pinni is traditional punjabi snack that can be enjoyed in breakfast and as a dessert alike.
Ingredients  
Whole-wheat flour – 1.5 cups

Chickpea flour/Besan – ½ cup

optional, if not using, use 2 cups of whole wheat flour

Ghee – ¾ cup + 1 tablespoon

Khoya/Mava – 1 cup

Green cardamom powder – from 2-3 pods

crack open the pods and crush the seeds in to a powder

Sugar – ¾ cup to 1 cup

Almonds – 2 tablespoons

chopped

Raisins – 2 tablespoons

Milk – 1-2 tablespoon

if needed
Instructions 
Set a heavy bottomed skillet or kadaahi on medium low heat. If using nuts, add a tablespoon of ghee into the skillet and lightly fry the chopped almonds and raising until light golden. Remove the nuts from the pan and set aside.

At this point, add the ghee and start mixing. Keep stirring the ghee and flour mixture until the flour is little brownish in color and fragrant. It will take about 7-8 minutes.

Add the flour (or flours if using besan) in to skillet and dry roast it till a beautiful toasty aroma fills your kitchen or the color of the flour starts to deepen just a tad bit.

After the flour has turned golden brown in color, add 1 cup of khoya. If you are using store bought khoya, it would be best to grate it with a box grater.

Grating the khoya helps to mix it evenly in the flour mixture without having to break apart big lumps. Stir the khoya in until it is completely incorporated, about 5 more minutes. Add the cardamom powder, mix, and turn the heat off.

Let the pinni mixture cool slightly (you should be able to touch it without burning your hands) and then add sugar. Start with a 3/4th cup of sugar, mix and give it a taste check and feel free to add a few tablespoons or up to 1/4th cup more sugar

Stir in the nuts and make sure everything is evenly incorporated and there are no lumps. It is best achieved using your hands.

If the mixture is cool enough for you to handle, take about a tablespoon and a half of pinni mixture and start pressing and rolling it into small ball and put them on a cookie sheet lined with parchment.

You might have to keep at it, but the balls will start coming together. If you think the mixture is too crumbly and it is hard to roll it into balls, sprinkle a few drops of milk into it.

Repeat until all the mixture is used up. The pinnis will store well in a clean and dry air-tight container for 7-10 days at room temperature or you can store them in the refrigerator for longer. Best served at room temperature!