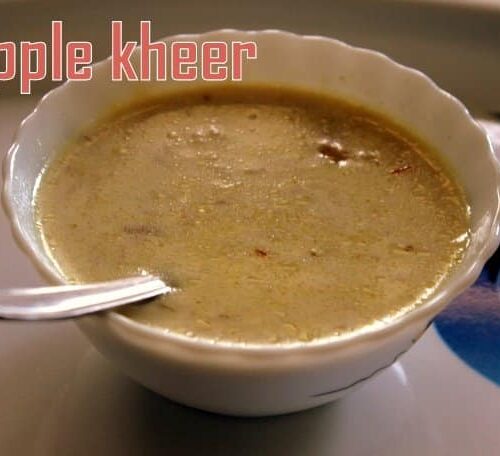 Apple Kheer
Apple kheer is a very delicious kheer made with milk and with the goodness of apples. It is an ideal kheer for any festive or special occasions. If you do not like apples, this is a nice way to include apples in your diet. Apple kheer can also be had during fasting days as it is very filling and nutritious too. You can serve apple kheer as an after-meal dessert or as a healthy sweet dish to the kids. The sweet taste of apples and cardamom gives a nice flavour and fragrance to the kheer.
Ingredients
Full fat milk – 1 litre

Sugar – 1/2 cup

Cardamom powder – 1/4 teaspoon

Saffron strings – a few strands

Cashewnuts – 10

Raisins – 15

Ghee – 3 tablespoons
Notes
Choose apples which are sweeter in taste for making this kheer.
Grate the apples just before making the kheer to avoid the apples changing its colour, due to oxidation.
Adjust the sugar as per the sweet taste required by you.
You can also add 2 tablespoons of condensed milk to enhance the taste and make the kheer more creamier.
Ensure that the cooked apple mixture is cooled down completely before adding to the milk, or else the milk will start to curdle.
Apple kheer is best served chilled. The kheer will become little thick when refrigerated.