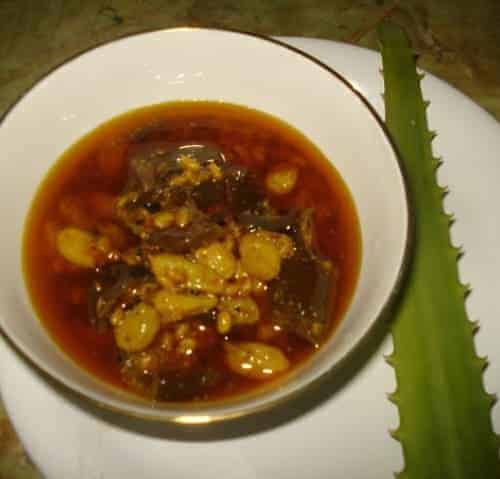 Aloevera Methi Pickle
ALOE VERA is Commonly known around the world as a miracle plant, one of its main functions is to help to improve digestion. Hence it is the reason why I chose to make pickle fromaloevera..I added methi seeds also because Methi/Fenugreek seeds are very small seeds (dana) but have lots of health benefits which are used for years as medicinal, therapeutic and natural home remedies.When ALOE VERA-methi pickle was ready , It was yummy and different. Go ahead and try it out!! trust me you will love it.
Ingredients
Aloevera 5 LEAVES

Raisins 1/4 cup or to taste

Methi Seeds - 2tbsps

Cooking mustard oil - 1 cup

Chilly powder - 3 tsp

Jeera - 2 tsp

Asafoetida - 1/2 tsp

Turmeric powder - 1 tsp

Dhaniya powder

coriander powder – 2 tsp,

Amchur

Mango powder - 1 tsp,

Mustard powder - 2 tsp

salt to taste

1/2

tsp

vinegar.
Instructions
wash the leaves,with the knife, carefully cut any thorny edges and Cut into small squares of aloevera and blanch it with methi seeds. Drain the water from all the above and press them against a towel to remove the water completely.

Take the aloevera, raisins, methi in a pan and add salt, turmeric powder, amchur powder, and mustard powder. Toss until it spreads evenly. Now saute these for 5 mins. Take a fresh pan and pour in the cup of oil.

Add asafoetida, jeera, 1 tsp of chilly powder and immediately drop in the above sauted contents and mix well. Now let this pickle get cooked for another 1 minutes in medium flame.

Remove from heat and add vinegar. Cool and Transfer to sterilized bottle . See to that the oil covers the top layer so that it does not get spoilt. Enjoy eating a very healthy pickle.