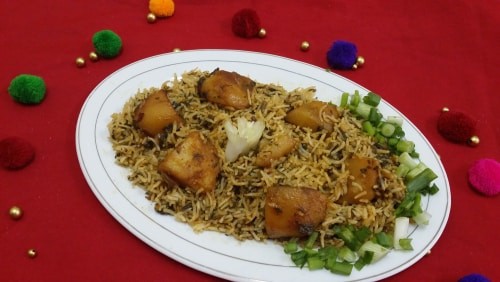 Aaloo Paalak Methi Pulao
Paalak pulao has been made by many, even aaloo pulao has been made earlier but what i did in this was to use both of these awesome veggies to give rise to my new innovative idea. A tasty and a easy pulao to enjoy at lunch or dinner with your loved ones. With the addition of potatoes, kids will also love it and most importantly, feeding this green magical veggie loaded with vitamins and minerals to the kids becomes a way more easier. Happy Cooking with Zeen !!!!!!
Ingredients
7

bunches Spinach

3

cup

Raw rice

2

potatoes peeled and diced

2 to

matoes finely chopped

2

tbsp

salt

3

bay leaves

2

cinnamon sticks

5

green chillies chopped

1/2

cup

chopped Coriander

1/4

cup

mint leaves chopped

2

onions thinly sliced

2

cup

spring onions chopped

1

small bunch fenugreek leaves chopped

1

tbsp

red chilli powder

1 1/2

tbsp

ginger garlic paste

1/2

tsp

Turmeric

3

tbsp

ghee or oil

1

tsp

cumin seeds
Instructions
Soak rice for about 15 minutes and then cook al dente with salt as required. Drain and keep aside. Chop spinach, mint, coriander and the fenugreek leaves.

Heat oil or ghee in a cooking pot, add bay leaves and cumin seeds. Next add, ginger garlic paste,turmeric and cinnamon. If adding red onions, add now and saute well until light golden brown in colour on a low heat.

If not adding onions, then add tomatoes, chopped spring onion greens along with chopped spinach, mint, coriander and fenugreek leaves. The choice is all yours.Add the green chillies chopped very finely or make a paste of it and then add.

Cover and cook on high heat for about 12 minutes until the water dries up because spinach leaves tend to leave a lot of water. After sauteeing the spinach well, add deep fried potato cubes.

Mix well and finally add the cooked rice. Cover and simmer on low heat for 10 minutes until it is heated up nicely. Keep it covered until ready to serve. Serve with any curry or on it's own. It tastes yummy nevertheless. Happy Cooking!