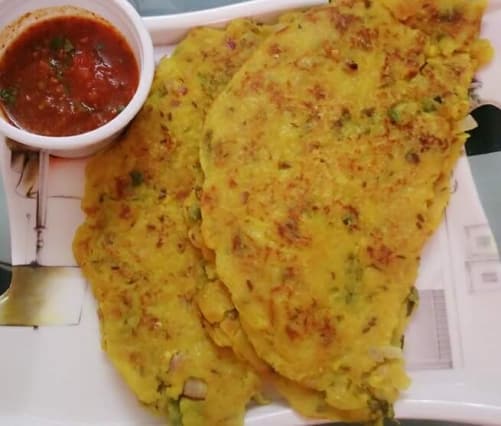 5 Grain Instant Dosa
7 June, 2018
This is an instant dosa recipe slightly spiced which requires no fermentation. 5 Grain dosa is a fuss free and instantly ready in minutes. Just mix it up and your Healthy and tasty multi grain dosa is ready.
Ingredients
Oats - ¼ cup powdered

Wheat Flour - 1 Cup

Rice Flour - ½ cup

Ragi Flour - ¼ cup

Sooji - ¼ cup

Cumin Seeds - ½ tsp

Turmeric powder - ¼ tsp

Chilly powder - ¼ tsp

Green Chilli - 1 chopped finely

Coriander leaves - a handful chopped finely

Curd - ½ cup

Salt to taste

Ghee few tbsps for drizzle

Water as required
Instructions
In a mixing bowl add all the ingredients except ghee and water and mix well. Now add water gently to make it into a thin batter but not too thin. Set aside for around 5-10 mins.

Heat a nonstick tawa, grease it with ghee. Pour a ladleful of batter and spread it. Drizzle ghee all around the sides.

Cover with lid and cook for 3-5 mins on medium heat. Flip over and cook for another 2-3 mins.

Remove and serve with sambar or any chutney/pickle of your choice.