You may have noticed that food bowls are appearing more often on various social media sites, and there is a reason for this.
Bowl food is gaining increasing popularity and we have the explanation for this development.Bowl food is easy to make. Bowl food looks beautiful. Bowl food is delicious.
Therefore, we call on you to FILL YOUR BOWL!
We, at "FillYourBowl" love the concept of making fresh food at home that is quick to cook, that looks appetizing and that you can eat from a bowl with just a spoon, so you can bring your food to your favourite spot in the house and enjoy it with great pleasure.
To help you all be a part of this trend, we have created a website where you can find several recipes for food bowls. We have a wish to gather all recipes for food bowls in ONE place, so you can easily find recipes for food that fits in at any time of the day, matches every mood and respects any diet.
If you want to see our recipes or read more about food bowls, please visit us at www.fillyourbowl.com.
To give you an idea of what food bowls can look like we will share 5 of our favourite breakfast bowls with you here:

ACAI SUPER SMOOTHIE BOWL
Gets the beautiful colour and rich vitamin content from the Acai berry!
The Acai berry is a great little berry for many reasons.
It provides a beautiful colour to the food it is used in, it has a great flavour and has various health benefits.
This is not the only reason why we love this recipe. As many of the smoothie bowls, the Acai Super Smoothie Bowl is super easy to make, as you just have to add all ingredients to a blender, push the button, and the food is ready!
See the recipe by clicking on this link: Acaisupersmoothiebowl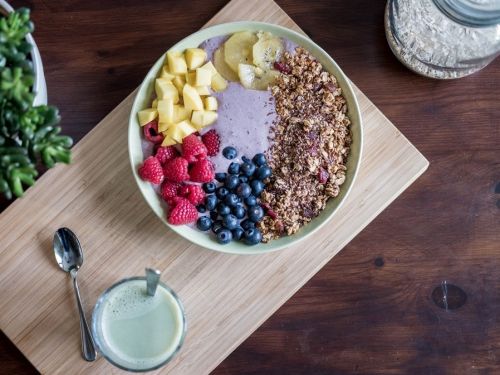 SPELT-OATMEAL PORRIDGE BOWL WITH BANANA AND ALMOND MILK
Vegan and super healthy!
This breakfast bowl is a perfect start for those long and tough days we all have to deal with sometimes. Because of the oatmeal and seeds that this recipe calls for, it is a food bowl that will make you feel full for a long time. It can also be very pleasant to start the day with a warm meal.
See the recipe by clicking on this link: Spelt-oatmealporridgebowl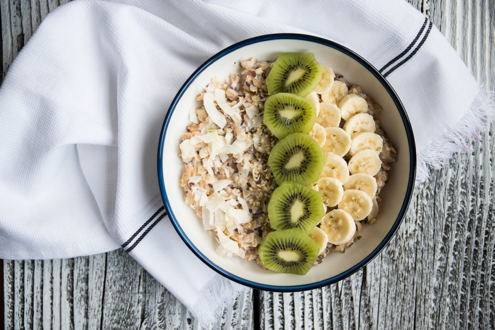 OMELETTE BOWL
Quick and full of proteins!
This omelette recipe is absolutely brilliant if you don't have a lot of time in the morning or if you find it difficult to get the right texture for your omelette, without burning it. With this recipe, you simply need a microwave to cook a full breakfast!
See the recipe by clicking on this link: Omelettebowl

DELICIOUS BANANA STRAWBEERY SMOOTHIE BOWL
Fruity, sweet and pink!
This colourful breakfast bowl is full of oatmeal and seeds, and tastes more sweet and fruity than you would believe something this healthy could do. It is something everyone should try when those sweet strawberry's come out of hiding in the summer.
What makes it even better: It is superfast and easy to make!
See the recipe by clicking on this link: Deliciousbananastrawberrysmoothiebowl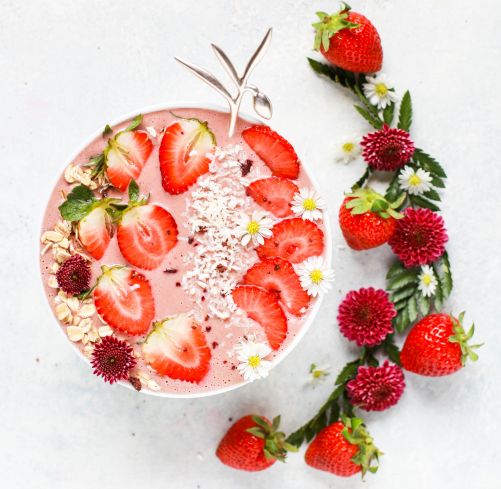 GREEN SMOOTHIE BREAKFAST BOWL
Get those good fats you need from banana and avocado!
Did anyone say avocado? YES! With this recipe, you now have one more way of eating this wonderful fruit, as it is one of the main ingredients in this healthy, good-looking smoothie bowl. Together with spinach and matcha powder, the avocado gives this smoothie bowl an amazing green colour and loads of nutrition's!
This smoothie bowl tastes great, and always looks good in pictures.
See the recipe by clicking on this link: Greensmoothiebreakfastbowl
For more delicious breakfast bowls, visit the ultimate food bowl recipe website www.fillyourbowl.com

Bon appétit