Why you should read baking books?
Reading Baking Books not only helps you with a step by step delicious baking recipe but also adds a lot of maturity to your bakes. I know many who read baking books and they feel like that they are reading a book of short stories. Each story is different from each other but carrying a common theme between each other.
Baking is not just to tickle your taste buds, it's much beyond that. For many, baking is a stress buster and for a few baking is a deep personal experience, I call it spirituality. You could be baking a cookie or a bread, a chocolate cake or muffin, books recipes will save you from taking a wrong turn.
You could be a young kid or someone cooking for years, but these books shall help you gain the basic essential knowledge of baking, insight of ingredients and how they work together and much more.
These are the must to have cookbooks for people who are passionate about baking.
Handpicked top 10 baking books for beginners.
Paul John Hollywood is an English Celebrity Chef best known for being a judge on BBC show "The Great British Bake off". Paul started baking at a very young age with his father in their bakery. He learnt so much from his childhood that by the time he grew up, he was already working as a head baker with Cliveden and the Dorchester.
Paul has a straight forward approach of making recipe simpler by giving easy to follow steps in his recipes. This is exactly what he has done in his book. For something that might have seem complicated to you so far, this book will make it real simple for you.
Paul takes you through the basic techniques and then provides clear and concise directions for you to start baking. The combination of what and why makes this books stand out. Paul also provides a British nomenclature to American so to ensure that people from all parts of the world understand the terms used in the book. This book clearly helps in developing your interest in baking irrespective of your age. This book is little more towards the bread but does cover cakes, pastries etc. and provide a complete baking know how.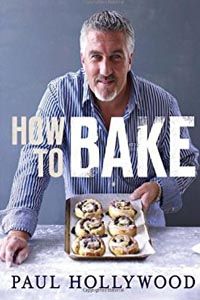 Winner of "The Great British Bake off" in 2012 where John was judged by Paul Hollywood along with Mary Berry. Things did not stop at the BBC TV show and John started presenting and judging on ITV daytime cookery show "Chopping Block".
Before John became a baker, he was scattered into many things. Though John developed his passion in baking while he was just 5. Studied law, worked as a banker with RBS but after winning the series of Bake off he rejected all of his law and banking offers and pursued his career in Baking.
In this special book from John, he shares his recipes that he likes to bake for his loved ones. From lunches to brunches and cakes to pizzas, everything that John would like to prepare for his family and friends, is nicely arranged in this book for the readers.
John picks his simple homemade original recipes and gives it his own modern touch to create his magic. The book has tempting images with some step-by-step process. If you have been trying your hands on baking a little bit, this book will take your baking experience to a different level.
Mary-Rosa Alleyna Berry is a British food writer and television presenter. Mary Berry has been a judge on BBC "The Great British Bake off" from 2010 till 2016. She has published more than 75 cookery books including her bestselling book "Baking Bible".
The book starts with a conversion table between Metric and Imperial. That makes it easy from people across the world to understand the quantity used in the recipe. Mary further goes ahead and introduce the readers to the techniques of baking, baking equipment's, various baking terminologies, and ingredients. Before she gets to the recipes, she graduates the readers with baking tips. Mary is an undisputed queen of cakes and that reflects in her book as well. The book covers a larger number of sweet bakes including a huge variety of cakes, cookies, short breads, fruit breads, pudding and pies.
For people who are heavily into Cakes and Muffins, this is a book for them. Beautiful pictures and illustrations helps novice and experienced both to take their baking experience to next level. Mary has nicely arranged all her tried and tested recipes in different categories that makes the reader easily find the recipe they are looking for. Adding a finished product picture with every recipe would have added an additional advantage for the user.
Bake: 125 Show-Stopping Recipes, Made Simple
Lorraine Pascale is a former model and an English television cook. Along with her own retail outlet of baked goods, she has hosted three television serials for BBC viz. Baking make Easy, Home cooking made easy, and Last minute Christmas. As a model, Lorraine has achieved recognition as the first black British model to appear on the cover of American Elle. She earned her Diploma in cookery course and established herself as specialist cakemaker.
Lorraine has a unique ability to create modern and delicious recipes that have inspired many. She has gained this ability while working with some of the country's hottest restaurants. This book is a combination of sweet and savoury recipes that includes breads, cakes, tarts, pies and much more. Lorraine, in this books, shares her baking shortcuts and cheat codes that she learnt while her training. The book has beautiful photographs that will make it irresistible for you to start trying these recipes. This book has well defined categories of cookies and biscuits, brownies and tray bakes, cupcakes and muffins, breads, pie and tarts and a lot more.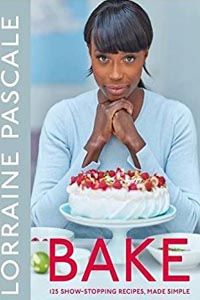 Shirley, a biochemist, and her husband had a boy's school where Shirley was responsible for making 3 times meals per day. The strength of the school increased from 30 to 140 in 2o years. This 20 years of cooking gave her enough experience to take cooking as her full time career. Author of award winning book "Cookwise" that had detailed Hows and Whys of cooking was a huge success. Shirley reproduced the same idea again and wrote "Bakewise" that has the Hows and Whys of baking.
Shirley has made numerous appearances on Alton Brown's show "Good Eat" as a food consultant.
This is a book where the author is not just talking about her experiences and her recipes, however, you will find her sharing details of the other works that has influenced her cooking and baking. You will find her explaining techniques used by other famous chefs and her own twist that enhances the user reading experience and enriches reader knowledge to a great extent. You will find a wide array of recipes including cakes, pies, cookies, and breads. A must to have book for bakers who like to understand multiple approaches to get to a perfect bake for a single recipe. For people who like to experiment, this is a go to book. Remember, Bakewise is for everyone who is into Baking.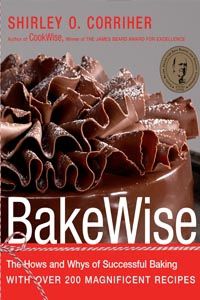 Regan Daley, a Canadian Pastry Chef, has worked for some most prominent restaurants in Toronto Avalon. Avalon was named as one of the best restaurants in North America by Gourmet magazine. Daley work has appeared in Bon Appetit, Fine Cooking, Country Home, and Gourmet magazines. She also hosts her food blog with the name Pen and Chocolate.
Be prepared to learn about an ingredient in more than 500 words before you read a recipe that is less than 300 words. That's how detailed the book is when it comes to baking techniques, ingredients and baking science. The first half of the book is a complete encyclopedia of all the tools and ingredients a baker will ever need. And the second half has tons of excellent recipes.
You cannot imagine your kitchen without this book on your shelf. This book reveals the secret of ingredients and enables you to play with them to create delicious recipes. This books helps a novice become an expert in baking and demonstrate the fact that "Anyone can Bake". When you know the substitute of an ingredient, you will never fail in your recipes. This book was chosen "Book of the year" by the International Association of Culinary Professionals.
King Arthur Flour Whole Grain Baking
Kim Boyce is a former pastry chef at Spango where her husband is also a chef. While at Campanile, she helped Nancy Silverton with her Sandwich Book (Knopf, 2002) and has cooked alongside chefs like Mario Batali, Claudia Fleming, Lidia Bastianich, Alice Waters, and Anthony Bourdain. She has contributed to Bon Appetit and has been featured in the Los Angeles Times on numerous occasions (both as subject and contributor).
For those who believe that dealing with whole grain is a challenging task, this book will change their perspective. The book covers a wide array of baking recipes viz. breakfasts, quick breads, muffins, biscuits, scones, cobblers, pudding, flatbreads, yeast breads, sourdough, cookies, cakes, pie, and pastries. You cannot expect more than this from a single book. The book gives insight of whole grains and its health benefits. I am sure this is exciting information for those who are health conscious. This is a must to have book for all those who wants to convert their bakes into healthy bakes.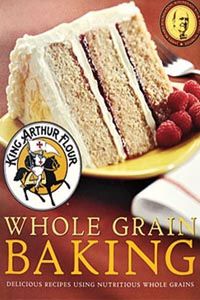 Martha Stewart's Baking Handbook
Martha Helen Stewart is an American Businesswoman, writer, and a television personality. Author of various bestseller books, she also hosted two television shows. Stewart was also selected in the New Jersey Hall of Fame, 2011.
The book provides a lot of baking tips that will help the beginner's in their baking experience. In her book, Stewart provides an array of topics including biscuits, muffins, cookies, cakes, pies, tarts, breads, pastries and what not. Simple and clear step by step instructions can make any beginner bake an awesome bake. Every chapter talks about the techniques of increasing the shelf life of your bakes.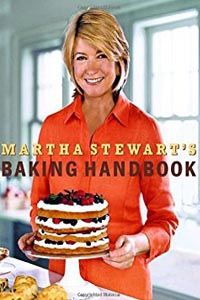 From a list of 22 books that Lora has written, many of them are best sellers. She is an author, spokesperson, lecturer, cooking instructor, and a business owner. Her recipes have appeared, among other places, in the New York Times Sunday Magazine, the Boston Herald American, the Hartford Courant, New York Newsday, the Philadelphia Inquirer, the Chicago Tribune, the Detroit Free Press, and the Los Angeles Times.
She was a featured chef on the Julia Child PBS series, Baking at Julia's, and her recipes were included in the series companion cookbook. She has appeared on Good Morning America, TheToday Show, Live with Regis and Kathy Lee, as well as on the BBC, the Food Network, and both NBC and CBS National News, and a number of cable television shows. Her many radio appearances include Fresh Air and All Things Considered.
For somebody who is entering into the world of baking, this book will be a perfect companion. Lora Brody gives detailed explanation of each ingredient and its role in baking. If you were ever confused between the difference of baking soda and baking powder, don't worry, this book will clear them all.
A writer who convinced people that they could bake amazing bread at their home in her previous books, has detailed baking science in this book that every novice and seasoned baker will love to read.
This books helps you learn how folding, beating and mixing differ from each other and when to use which technique. A must read book irrespective of the level of proficiency you have in baking.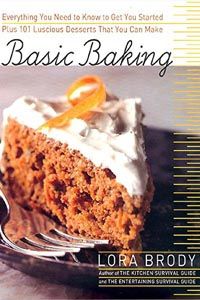 Chetna hails from an ancient city in central India who was greatly inspired by her mom's cooking and learnt a lot about flavors and spices from her. Chetna is a trained fashion designer and after her second child, she started to develop her interest in baking. In her book she introduces colorful spices, aromatic herbs and other Indian ingredients into traditional Western baked favorites.
Chetna hails from an ancient city in central India who was greatly inspired by her mom's cooking and learnt a lot about flavors and spices from her. Chetna is a trained fashion designer and after her second child, she started to develop her interest in baking. In her book she introduces colorful spices, aromatic herbs and other Indian ingredients into traditional Western baked favorites.