Snowy white….light n fluffy….Whipped cream is amazing.
Tastes, texture, looks… everything superb.
Though there are many types of cake icings like Buttercream frosting, Cream Cheese frosting, Ganache…. to name a few but personally, whipped cream frosting is my favourite. I love licking this cream and when added to cakes, I just can't stop myself.
Whipped cream, apart from being used for frosting on cakes is used with so many other desserts and also for many other purposes.
Like, I love adding it to my cold coffee. Just add little and see the magical difference in your cold coffee.
Though whipping cream is easy but you need to keep in mind certain important things.
One mantra for getting perfect whipped cream is COOL…COOL….COOL
Yes, everything…. the cream, the steel bowl, the whisk…. everything should be chilled.
For excellent results, use heavy whipping cream.
I normally use non-dairy heavy whipping cream.This cream is soy based.
1 Cup cream yields almost 1.5 to 2 cups of whipped cream.
Also, it is naturally sweet, so add sugar cautiously.
You can whip it using a hand whisk or electric beater.
Well, beating it with a hand whisk requires time, patience and lots of efforts.
And I have neither of these especially when making cake, I am always in a hurry… hard pressed for time.
So, I beat it using electric beater only and the job gets done in 5 to 6 minutes.
MY TIPS, FOR MAKING PERFECT WHIPPING CREAM ARE LITTLE MORE BUT I ASSURE YOU, IF YOU FOLLOW THESE TIPS, MAKING WHIPPED CREAM WILL BE BREEZE FOR YOU.. SO, LET'S GET STARTED.
Always keep your whipping cream carton in the freezer. Yes, it will be frozen. So, whenever you plan to use it, keep the carton in the refrigerator a night before. Yes, thaw it in the refrigerator only. Never keep it outside.
Keep the metal bowl and the metal whisks in the freezer at least for half an hour. Believe me, it makes a lot of difference. In case you have forgotten to keep these in the freezer, then delay your whipping process may be by 15 minutes only so that you first keep these in the freezer and then start.
Always, shake the carton before taking out the cream into the bowl. I have had very bad experience regarding this that is why I am emphasizing it so much.
Take a big bowl, bigger than you might think for the little quantity of cream. This is for two reasons. Firstly, the cream splashes while whipping, so not to add to your cleaning woes here n there, it's better to use a bigger container. Secondly, it increases in volume. Almost becomes double.
Keep this container on an ice bath. This means keeping it on a bowl of ice cubes.
Now, you are ready for whipping. Start beating at a low speed and gradually increase the speed of the beater.
After 2 minutes or so, when cream thickens slightly, add icing sugar, essence/ colour to it. Add icing sugar slowly in small batches or after adding it, mix it in the cream just manually before starting the beater. This is because otherwise it will fly away everywhere forming a cloud leading to wastage and you on the cleaning spree.
Icing sugar is not just powdered sugar. In fact, it has cornstarch added to it in appropriate quantity to prevent it from clumping/ caking. So when you add icing sugar, little amount of cornstarch is automatically added to the cream which in turn acts as a stabiliser.
Some people add stabilisers like gelatin or cream of tartar to the cream to retain its stiff peaks but I don't.
While Whipping cream you will see many stages to it. From liquid to slightly thickened, then soft peaks and finally stiff peaks.
Beat till you see stiff peaks. when you lift the beater you will be able to see beautiful snowy peaks. Another test is that you invert the bowl in which you are whipping cream. If the cream starts sliding then it needs more whipping. On the other hand, if it remains as it is there then it means it is sufficiently whipped.
However, do not overbeat it else it might curdle. To avoid this keep a check 4 minute onwards and also do the test as mentioned above.
Once whipped, use it then only or transfer to an airtight container and keep it in the refrigerator. Do not keep for more than 2 hours. In case, you find it a bit lose when taken out of the refrigerator then whisk it again and use.
One suggestion. Try to keep the kitchen as cool as possible while whipping cream. This means to keep gas stoves/ Oven etc off during this time.
It is not advisable to refreeze the thawed products. For this, my advice is that keep the cream in little quantity in 3 or 4 or 5 containers in the freezer. At the time of use, keep one container in the refrigerator to thaw and use.
USES OF WHIPPING CREAM
Icing on cakes/muffins
Serve with pies/ apple crumble/ brownies
Add in cold coffee or black coffee or shakes.
Serve with fresh fruits.
Use in Cream cheese frostings.
Decorate puddings/Ice cream Sundaes/ Cheese Cakes…
Pictorial description is given below…
Keep the vessel and whisk in the freezer for minimum half an hour.
Thaw the cream in the refrigerator. Shake well before taking out the cream.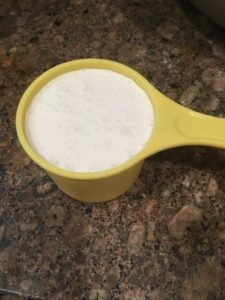 Take some ice cubes in a bowl. This will act as a ice bath. Ensure that it is big/wide enough to hold the mixing vessel on it.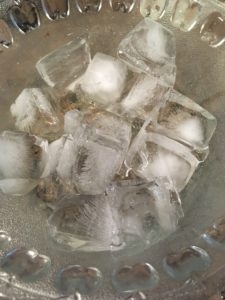 Put the mixing vessel with cream on ice bath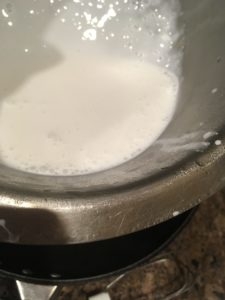 After about 2 minutes when cream thickens a little, add icing sugar, flavourings.
Keep beating for another 2 to 3 minutes and you will see the cream has got thickened. When you lift the whisk, peaks will be visible.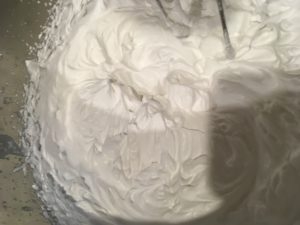 The cream will not slide down even if you invert the bowl
Use as desired or keep in a closed container in the refrigerator, but not for more than 2 hours. After taking out of the refrigerator, you may whip it again if find it little loose.