Vikas Khanna, the award-winning Michelin-starred Chef, currently lives in New York, USA but still has his heart and soul in India. Armed with an ever charming persona, Vikas Khanna is also referred to as the "Hottest Chef in America." He is not only charming and sensationally good-looking but his exterior charisma is also backed up by a golden heart. (Read his inspiring story) The ever-smiling 45-year-old Chef has also penned down several books which talk about Indian cuisine specially the regional cuisines of India. He is a globetrotter and due to his efforts, Indian recipes are creating a mark in the culinary world.
The host of Master chef India, Junior Master chef India and twist of Taste, wrote his book "UTSAV" about his motherland India. One of its kind, this book was compiled in 12 years and has 12,00 pages which talk about the festivals and food of the multicultural potpourri of a land that is India and features various recipes from the Chef's motherland where he believes every day is an Utsav (Celebration). When you turn the pages of this book filled with colourful images of celebrations, festivals and food of India, one can sense the pleasant earthy aroma of the Indian soil along with the olfactory-stimulating varied foods and spices of India.
This book grabbed global attention when twelve handcrafted 24 Carat gold gilded copies of the book were presented to world leaders like Prime minister Narendra Modi, Former US Presidents Barack Obama and Bill Clinton, Facebook founder Mark Zuckerberg, Spiritual leader Dalai Lama, Celebrities like Bollywood legend Amitabh Bachchan, Lata Mangeshkar and King Khan SRK (Shahrukh Khan) among others. The 11th copy was reserved for Queen Elizabeth II, but the 12th copy however became the most special as this was planned to be presented to Steve Jobs, the Founder of Apple who unfortunately passed away before this could happen. This book was then auctioned and sold to Rasesh Kanakia (Chairman of the Kanakia Group and Cinemax) for 3 million INR (Rs 30 Lakh), which is the highest in the history for any cook book and the amount was used to serve food to 200,000 kids in India though the Smile foundation (for which Vikas Khanna is also the goodwill ambassador).
The humanitarian Vikas Khanna is a man with a golden heart and this proves why. Do share your comments about what you feel after reading this story about a man who started a humble journey in the streets of Amritsar.
Here are 3 other famous books penned by Vikas Khanna, which you can buy from Amazon:
Everyone can cook: This book is for beginners, who bravely enter the kitchen and yet want to make a delicious and sumptuous meal. This book talks about simple recipes which can be made in a jiffy. From mouth-watering starters, soups and poultry recipes to delectable veggies, all can be found in this book.
Khanna Sutra : If cooking is therapeutic for you, if it relaxes you and two of you love being in the kitchen and find it more romantic than going to a movie or pub then this is a must-have book for you. Chef Vikas teaches food lessons with love, where recipes will make cooking a romantic experience.
My First Kitchen : If you want to start a culinary journey like Chef Vikas Khanna, then this book is for you. Learn to cut, chop, preserve and puree. Learn to set up your own kitchen and learn to throw parties like a pro. This book if for people who are serious about starting their culinary journey.
Here are 2 books for your kids, penned by Chef Vikas Khanna, as he believes reading and cooking should be introduced at a very early age:
The Milk Moustache : A beautiful book for your young ones who love to hear bedtime stories, a story set in an Indian village where children refuse to drink milk and Kali, the cow feels sad about it. The story talks about Jassi, who is Kali's best friend who ends this milk strike and make kids drink the milk again. This story would not only tell the benefits of drinking milk but would also lead kids to use their imagination.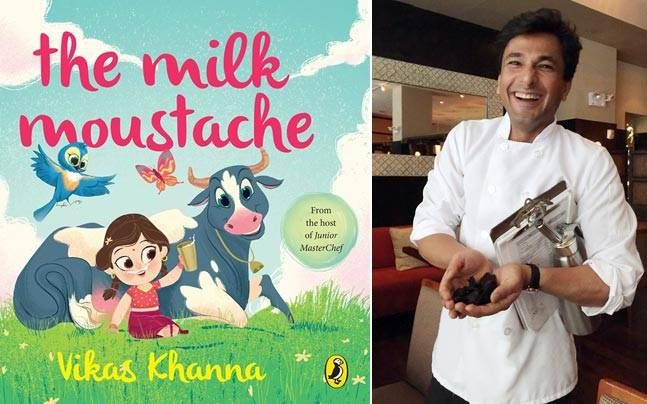 The magic rolling pin : This story is somewhere a reflection of Chef Vikas khanna's own child hood. Jugnu loves to cook round rotis with his belan but one day he doesn't find it and he feels disheartened because now he would not be able to cook and then his grandma says that the skill is not in the belan (Rolling pin) but in you.
Few other books to consider are Flavors First: An Indian Chef's Culinary Journey, Hymns from the Soil: A Vegetarian Saga, Masterchef India: Cookbook