Sri Lanka – also called as "The Teardrop of India" or "Pearl of the Indian Ocean" is known as the Island of Rice and Curry but this small pearl which is bountiful of breathtaking sights has lot more to offer when it comes to culinary expedition. Yes, lip-smacking sea food entices your taste-buds but liberal use of local fruit, such as coconut and jackfruit and an arsenal of spices, Sri Lankan cooking delivers an abundance of incredible dishes.
A bite into the Elu Mas Boreta or dry mutton fry and Issu Samage Theldallo or simply divine devilled prawns and squids, the vegetable cutlet (Elawalu) and chicken roti (Kokul Mas), Dunthel bath (saffron rice) accompanied by Amba Mabula (ripe mango curry) will surely entice you through this magnificent srilankan food safari.
Plattershare Team, got an opportunity to taste few of the authentic dishes from Srilanka at Bon south's Sri Lankan Food Festival – Raavans Kitchen. Here is an exclusive interview from Head Chef Manu Nair where he talks about the Specialty of this food festival. 
Bon South is a specialty non-vegetarian restaurant which specialize in the south Indian cuisine and Sri Lankan cuisine.
The name of the Food festival- Raavan's Kitchen itself excites your thoughts, Isn't? Let's explore more and hope you come out to taste and explore Raavan's Kitchen
1) Raavan's Kitchen – what's in the name?
The reason we named it Raavan's Kitchen is it's an exciting name and people want to try out something new. Today, both Indian and Sri Lankan cuisine is changing a lot. Youngsters are ready to try out new types of cuisine and love the food. And so we came up with this exciting name which would provoke the instant thought of Srilankan cuisine.
2) How authentic is the Sri Lankan cuisine you have here at the Food festival?
Eighty percent of the dishes are authentic which would showcase that cuisine and the country. Ten percent are our restaurant – Bon South specialties which again are known to have its traditional roots, and remaining ten percent is the fusion of Indian and Sri Lankan so that it can cater to the taste buds of all kinds of foodies be it a kid, youngsters or senior people but the idea is to let people know and try completely new cuisine which is yet to become famous and has a lot more that is yet to be explored.
3) What's exciting about Sri Lankan food in particular?
Sri Lankan cuisine is yet to become mainstream and there are lots of dishes that even the die-hard foodies have not heard about. Not many places do a special on Sri Lankan food, so it isn't given a lot of spot light. Secondly, this is one country which has a very rich and almost royal sort of food, while at the same time having some lip-smacking roadside food. Head Chef of Bon south got a chance to eat with Chef Peter Kuruvita at his restaurant which inspired him to try out these new and exciting tastes. All these things together motivated us to organize the food festival exclusively for Srilankan cuisine.
4) What are some special ingredients which are purely used in Lankan food?
There are a few things that are purely Lankan that cannot be overlooked. The first most important spice is the Sri Lankan roasted curry powder, it's a masala that's used is almost all of the dishes we have here. It can be altered for veg and non-veg dishes. Roasted coconut masala and roasted rice masala are the second most used spice mixes in the dishes.
There are also a few herbs that are very native to Sri Lanka, which we used in order to keep it real. For example, Kaffir lime and Pandan leaves are both used in abundance in Sri Lankan food. We couldn't even get pandan leaves in Bangalore, so we got them shipped from Sri Lanka, through the horticulture group, that's how authentic we try to keep it.
Photo Credit: Bon south, Chef Manu Nair's Creation – Elumas Curry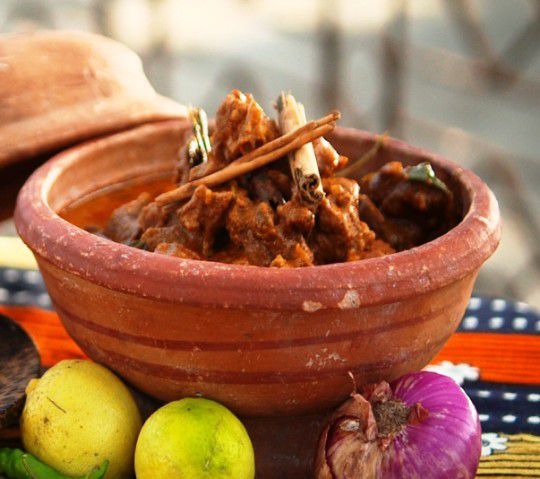 5) What are few dishes which are served at the Raavan's kitchen food festival?
We have laid out a buffet of about 45 dishes which includes starters like Sri Lankan patti Samosa, Jaffna Mutton Wadai. Shrimp Miri Kokis, Devilled Chicken (Wings) and Ceylon Curry powder Chicken roast.
Soups include what is Sri Lanka's national soup; Melaga Thanni Soup (Mulgutwany Soup) and Chicken Vermicelli Soup.
For the non-vegetarian dishes, we have Ambul Thiyal Elumas Curry and Sri Lankan Lamprise. Our vegetarian dishes include Iddiyappam Biryani (Sri Lankan string hoppers layered with spicy mix curry and saffron sauce), Jaffna lemon grass Saffron Rice, and Spinach Dal. 
Desserts include the traditional Kalu Dodol Wattalappam in Matka. All of these dishes are authentic Sri Lankan dishes, with the absolute real taste.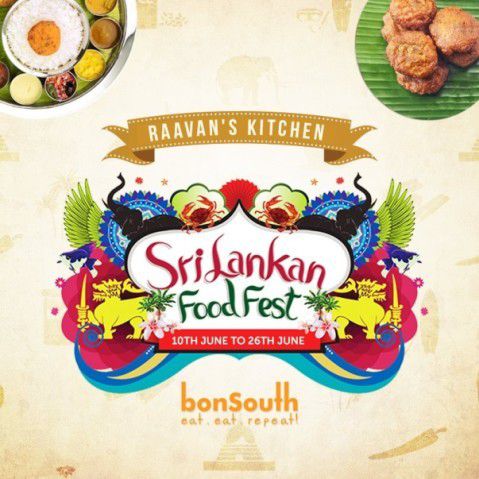 6) Are people to accepting something not main-stream like Sri Lankan cuisine?
See, mostly for the youngsters, they're willing to try out anything and everything, but the presentation has to be appealing. If you just say Sri Lankan food, people might not have the most positive response, since it's kept in the dark.
Raavan's Kitchen sounds like an interesting concept anyone would want to try. In fact, every month we have a food festival. We keep on doing these cuisines and get everyone's attention to these kinds of food which are almost exotic. We try to experiment and know what's being liked by the people, and then decide upon more food festivals from there.
7) How has the reaction been to the food festival so far?
Sri Lankan is being loved a lot mostly because it has an Indian touch, not to mention Chinese and Dutch influences. They all give it a completely different character, and that's the whole idea. A wholesome traditional Sri Lankan meal isn't everyone's preference, so it makes sense that we tone it down a bit for a different crowd.
8) Sri Lanka is a coastal country, so what vegetarian options do you have in the cuisine?
A lot of vegetarian options! Sri Lanka has two very different types of cuisine, one if the coastal food, which has a lot of Dutch influences. The second is the Sinhala cuisine, which has a lot of Tamil influence. It has a lot of vegetarian options to choose from; pumpkin, beetroot, tapioca and what not. We have included those authentic vegetarian items, along with a few fusion vegetarian options.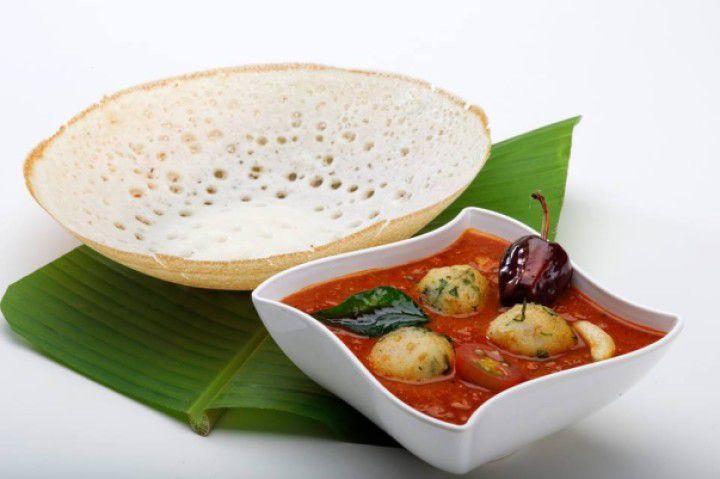 9) How has the menu been decided upon?
At, Bon South, lot of different cuisines are served. We definitely don't want to confuse people. The entire team here is trained to tell you what goes with what. Right combinations is a must , people will form a wrong perception about the cuisine because they have taken the wrong combination which ordering so we present them the correct combination as well as explain then at the time or ordering
That way, you enjoy all of the items and don't get bored.
So why are you still waiting?! Check out Srilankan Cuisine @Bon South and do let us know your experience.
Facebook – https://www.facebook.com/bonsouthindia
Address: 130, 1st Cross, Koramangala – 5th Block, Behind Sukh Sagar, Bangalore, Karnataka – 560095
Ph – 08049652551
[email protected], [email protected], [email protected]
Mon-Sun : 12:00 pm TO 3:30 pm, Mon-Sun : 7:00 pm TO 11:00 pm