With so many salts like kosher salt, Himalayan pink salt, table salt, iodized salt, sea salt available in the market, one can get easily confused on which one to buy and consume.
Salt has been a highly cherished substance for thousands of years across all cultures and continents. There seem to be many types of salt in the market and one of the questions health- conscious people ask me is "which is better"?? – says Dr Gauri Rokkam, M.Sc (Food & Nutrition) Ph.D. (Yoga & Life Sciences) who is also a Holistic Nutritionist, Yoga Therapist & Lactation consultant and has designed a 4 week "Heal Thyself" program where modern nutrition principles are blended along with the food principles of Yoga and Naturopathy which aids in preserving health & preventing diseases. She believes in a holistic approach to weight loss and does not believe in counting calories.
So, which salt is the Healthiest?
My simple answer is – the one which is least processed/refined.
Table salt is highly processed & has nothing but sodium and chloride
(typically 97.5 to 99.9 % sodium chloride). Added are anti-caking agents to keep it from clumping, which may be harmful. Today, table salt is fortified with iodine. Iodine deficiency is a thing of the past and the present bane is the other extreme, of hyperthyroidism (caused by excessive iodine intake) and other related health issues.
A good-quality unrefined salt (off white) or Himalayan pink salt contains many minerals and trace elements, including calcium, magnesium, potassium, copper and iron, with around 87% sodium chloride. They are off white or pink because they are unbleached, unlike table salt. Himalayan salt contains high amounts of iron oxide (chemical compound that gives rust its colour) and when the iron oxide reacts with sodium chloride, it imparts pink colour to Himalayan salt.
Recommended Read: Sugar Facts, Not So Sweet…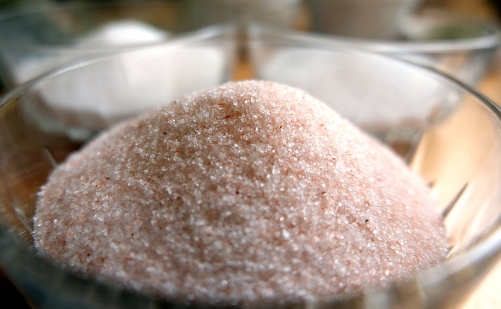 All said and done, excess salt and sodium intake is the cause for a variety of serious health conditions such as heart disease, hypertension and stroke. Use just enough salt in cooking and use only unrefined salt. Add green leafy vegetables to most of your dishes. It will add natural sodium content and the dish needs lesser salt addition.
I see many of my clients struggling with the reduced salt prescriptions from their doctors/nutritionists. They do not relish their food anymore and end up eating the unhealthy/junk food which is the reason (high sodium content) for their health issues – Says Dr Gauri.
Salt in home cooked food is generally not the culprit, it is the processed and refined foods. So, ensure to get lesser & lesser packets, bottles and tins from outside and enjoy the home cooked food with minimum unrefined salt, added.
Where to get it:
Any organic store will stock unrefined salt. It is available in big crystal form and powdered form.
Buy Puro Healthy Salt from Amazon
About the Author: Dr Gauri Rokkom, (Nagashree. R. Shanakar) is a Doctorate in Yoga & Life Sciences from SVYASA Yoga University. She holds a Master's degree in Food & Nutrition, Bangalore University. Her recent research on "Fresh Coconut", proved that fresh coconut is innocent. Her researched paper has been published in the prestigious Journal of American College of Nutrition, USA and is the first study on fresh coconut, in the world.
Dr Gauri has helped people get healthier by eating & living right. By adopting these simple changes, people have reported reversing their various diseases like diabetes, dyslipidemia, hypertension, obesity, allergies, digestive disorders, hormonal imbalances, etc., through her 4 – 6 weeks "Heal thyself" holistic wellness program. This program lays out a simple, safe, delicious, practical and nutritionally sound way to improve health and achieve sustainable weight loss. Most people find they can eliminate their medications within this short time frame and get back to vibrant health. If you want to meet or contact Dr Gauri, connect with her on her Facebook Page "Swaastya Nutrition services" or drop us a mail on [email protected]