Ever Smiling and  busy with budding chefs, Chef (Mrs.) Reetu Uday Kugaji is a passionate chef and  Programme Head at  Culinary Arts – Queen Margaret University, Edinburgh at the ITM Institute of Hotel Management at Nerul, Navi Mumbai. She is a food author and actively writes for  various online and offline publications.
While she has planned menus and prepared the most delectable and exotic cuisines for  a number of clebrities like the Former Hon. President of India Her Excellency Smt. Pratibha Patil, "The God of Cricket" Mr. Sachin Tendulkar, "The Great Wall" of Indian Cricket, Mr. Rahul Dravid to name a few, she has also been busy mentoring and feels that it is her biggest achievement to shape the future of a new generation of budding chefs.
Her Dedication and passion for food, which is next to God for her is reflected from the fact that even though she is a pure vegetarian, she doesn't hesitate to taste non-vegetarian dishes as that is a part of her profession and she believes that food whether vegetarian or non-vegetarian, if cooked with utmost love and positivity touches the heart of the person relishing it.
Tell us something about your culinary journey
My Mantra: The only ingredient required for cooking is "Passion".
I cook to touch souls. I believe that one keeps learning till his or her last breath. Walking down the streets, I carry my camera to capture the most unseen and interesting foods, spices anything and everything to do with food. I wanted to be a Chef since my childhood, especially in those days when women were reluctant to choose a career in the hospitality industry.
It was quite challenging for me. I never thought that I would be something, that's going to make my profession so noble and that's being a chef cum Programme head of Culinary Arts. I believe that I am a crucial part in molding and shaping the careers of budding chefs to professional chefs. I am indeed blessed to be the chosen one to impart my knowledge and skills to the next generation.
Who is your biggest support in your food exploration?
My mother, Mrs. Manjit Arora. I would say, she is a fantastic and an ardent cook. I have seen her cooking various cuisines for us. She always tries to cook something out of the box. This not only motivated me but also has encouraged me to do something unusual with food and so I started experimenting with food.
Have you tried any new food recently which was unique and different?
Yes I did, that is Green Chilli and Honey Angoori Rabri – Angoori Rabri with a Twist! This was chosen in the winners – Second Prize for the KitchenAid India Diwali Giveaway 2015 at the www.theurbanspice.com
Which Camera do you use for clicking those droolworthy food pics? Can you give us few tips?
Canon DSLR EOS 700 D
By lighting the food or subject that you're going to shoot from behind, you give your composition a more three dimensional feel.
Instead of using a big soft light, using a relatively small source of light will enhance the texture of your food. You thus connect the image to the tactile sensations of a good meal.
When choosing a camera position consider starting from slightly above your plate, as if you were about to sit down and eat.
When shooting a table setting (rather than a single item) create a visual path for your viewer to follow.
When shooting food with a DSLR, use a wider aperture to create depth with focus.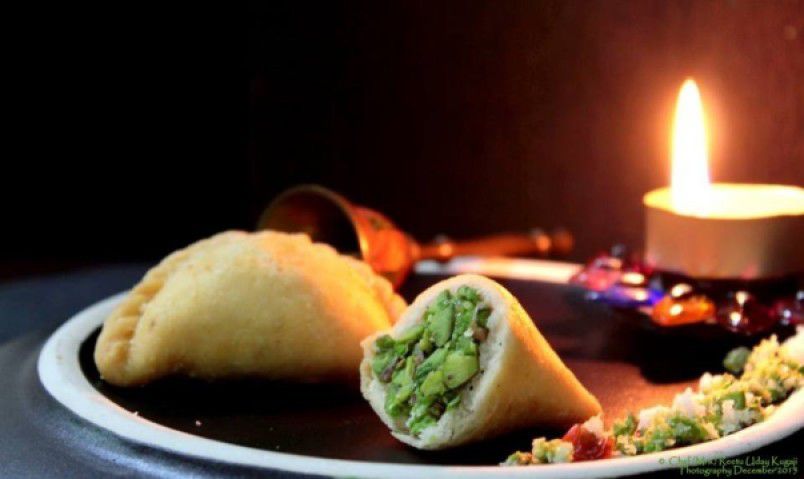 Can you give us few tips on food styling which our home chefs can use while preparing for a party?
Garnishing the food is one of the most renowned techniques to make food look incredibly delightful.
Adding a sprinkle of fresh herbs, a lemon wedge and even diced peppers will give food presentation a tempting look.
The first and most important thing to always remember is to buy the most beautiful and fresh food.
Never overcook the food.
In order to keep hot food "alive on set" it must maintain a just-cooked-look
Again, in order to keep cold food "alive" it must look cold. For example, make sure that a glass of Mocktail has condensation on the outside of the glass.
Storing of food to be done according to the required temperatures.
Keep in mind how to prevent enzymatic browning i.e. potatoes to be placed in water after peeling
Do you see the food industry evolving, especially when you look at the young chefs in your institute?
Yes, I do see the food industry evolving, the budding chefs after successfully completing the third Year Hospitality Management course, have to give a series of interviews and then a trade test, after which they join the Hospitality Industry. Gaining an enormous and enriched experience they are apt to open up their own restaurants, catering or food outlets.
They can opt for Professional chefs, chefs on cruise, restaurant owners, and specialty kitchen Personal chefs for elite people, Food consultants and Caterers.
Was it challenging for a woman Chef to enter the professional kitchen?
Previously yes, but now I see that many more Chefs in the professional kitchen are Women. No one doubts women's abilities in the kitchen. They unquestionably have skill and creativity.
Tell us your mum's favorite recipe which you love?
My Mums and  my favorite dish is Chatpata Kala Chana. Here is the recipe – Chatpata-Kala-Chana . Try it and let me know how it tastes, its heavenly 
Follow Chef Reetu on Plattershare
You can also contact Chef Reetu at [email protected]
Web – www.chefreetuudaykugaji.com
FB Page : Food For Thought by Chef Mrs Reetu Uday Kugaji
If you know a magic creator of food and amazing chef and would like to appreciate their work, do write to us at [email protected] and we would feature their story on Plattershare food stories.