Plattershare, Social media for food enthusiasts organized its first Homechef Meet in association with Farmz2Familiez at Dhyaana wellbeing cafe and studio, Indiranagar, Bangalore.
Appreciation, recognition, connection and networking which would benefit food enthusiast is Plattershare's vision and following this vision, The First home chef meet targeted to bring out all the home chefs of Plattershare in Bangalore to meet and greet with the fellow home chefs and exchange the ideas to innovate and improve their culinary talent.
Plattershare promotes and associates with Ventures and Brands of Food and beverage industry so that they can reach out to the potential decision makers of any household ie home chefs.
The event started on a high node with meeting and greeting session followed by culinary demonstration by Plattershare Content partner Rajeswari Annamalai who showed "How to make healthy snacks using farmz2familiez products", she made Carrot Bites using Adai batter
After the delicious snacking break, the session on "Mindful Eating" organized by Dhyaana well-being studio and cafe, inspired everyone during the meet.
The Idea behind such meets is to connect home chefs and members of Plattershare community with various food and beverages ventures and brands and vice versa as brands can showcase and generate awareness about their products directly to the foodies and food lovers.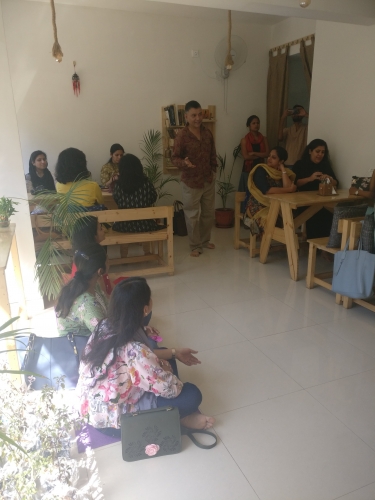 The uniqueness of Plattershare Meets is to provide a platform-
1. Connection, Appreciation and Recognition to the home chef and motivate them to showcase their hidden culinary talent. Providing them with a space to curb their inhibition and explore the possibilities
2. Generate awareness about food, cuisines and latest food trends.
3. Brand awareness and promoting the brand products and services in front of the home chefs who can appreciate and recognize the brand's work.
4. Designing a session and event in such a unique way so that the participants( brand and invites) take back the memories.
The Success of any meet-up depends on the feedback of what all the invites have to say about the event and this is what they have to say
Feedback by Priyanka Gandhi Mehta . Also dont forget to read the feedback from Femina Shiraz on her blog Salt n Pepper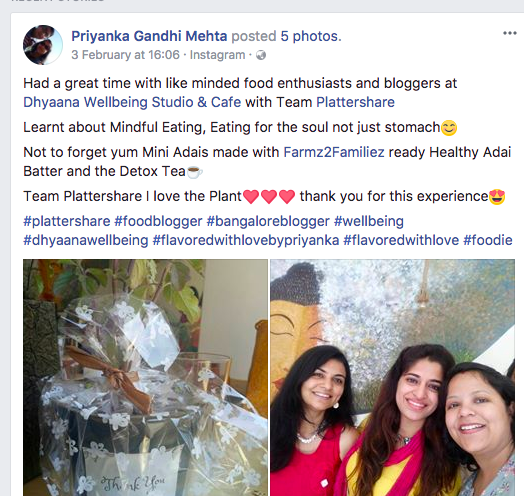 After all, Food Connects the mind and stomach together. If you want Plattershare to come to your city. Comment here and stay tuned, next might be your city.