When we are at school or work, we often crave for homemade meals. Eating homemade meals is the cleanest and most nutritious way possible to maintain a healthy diet. More so, bringing homemade meals is budget-friendly.
You can bring home-cooked meals at school or work through compact, leakproof, and durable food containers. Food containers do not only pack nutritious meals, but they can also store freshly produced nuts, dry cereals, cookies, and store leftovers.
Considerations in Choosing the Best Type of Container
As containers are important in making pre-cooked meals or storing leftovers. We have to ensure that our food containers are safe, durable, and cost-efficient. Here are some key considerations in choosing the best type of food container.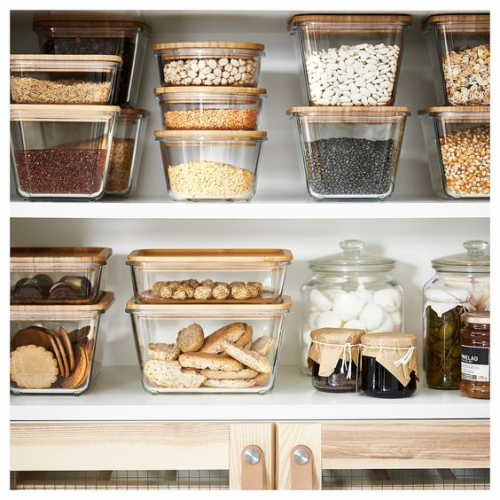 Cost
Most consumers are concerned with the cost of the food container. But, it is wise to think about the usefulness of the container and its duration of use. Some might consider the disposable containers that are sold in bulk rather than those durable and expensive containers.
Almost all of the durable and expensive containers can withstand long-term uses. More so, it can survive extreme temperatures. Thus, considering the use and duration is better than focusing on the cost alone.
Material
We will know the durability and reliability of food containers based on their materials. Most food containers are made of flexible plastic, hard plastic, and glass. Each of the materials has an advantage and disadvantage.
Flexible plastic containers are disposable and least expensive, while hard plastics are reusable. Some are even durable and compatible with heating in the microwave and storing in freezers. The only concern for plastic containers is the use of BPA, which has been a health concern for decades. But, most manufacturers have eliminated the use of BPA materials in their products. But, it is widely recommended to check the manufacturer of the containers to ensure safety.
Glass containers are heavy yet reliably durable. Most are microwave-safe, oven-safe, and freezer-safe. It is safe and secure to store pre-made meals or leftovers in these containers. But, you need to practice fact-checking from the manufacturers. You need to ensure that they have eliminated harmful materials in creating their products. Manufacturers like Roetell are approachable with regards to product inquiries.
Moreover, food container lids are also made from a variety of materials. You will notice that most containers are made from a different material from their lids. Plastic lids are common, some are paired with plastic and glass containers. While some glass containers are tightly sealed with silicone gaskets.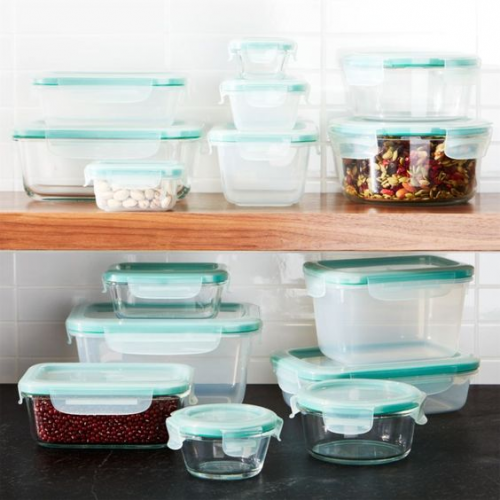 Type of Lid Used
All food storage containers have lids for sealing, but some lids securely seal than others. A secure lid will prevent the stored food from catching molds and spoiling. Lids that provide pressure when locked can perfectly store and hold food. 
There are other lids with flaps that will snap when locked onto the side of the containers. This type of lid takes longer to open and close, yet it is securely safe for the stored food. Overuse of this lid may cause breaks on the flap hinges, lock the flaps gently. Meanwhile, there are other lids with screw-on or levers on top. They seal when pressed and removed when pulled.
Freezer-safe
Freezer-safe containers are highly recommended for storing pre-made foods in the freezer. Most glass containers and hard plastics are freezer-safe, but there are some containers that break or crack whenever exposed at cold temperatures. Thus, buy food containers that are specifically designed for freezer use.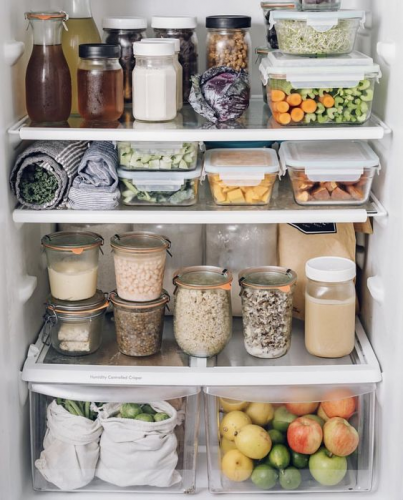 Microwave-safe
It is handy to have food containers that are microwave-safe. You can heat leftover foods or pre-made meals in the microwave. Most food containers are microwave-safe. But, it is recommended to check the manufacturer and its features. You do not want to experience a melted container, right?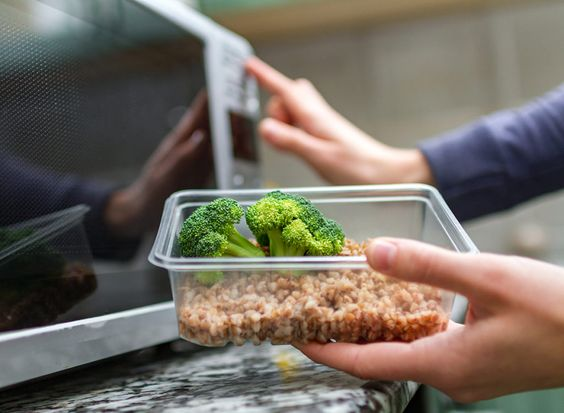 Oven-safe
Everything is made easier. Choose a food storage container with an oven-safe indicator. However, you still have to be cautious in checking the features and manufacturer information.
It is useful for food preparations as you can easily heat the ingredients or even reheat the leftovers in the fridge. In addition, there is a need for proper handling of oven-safe glass containers. Do not enforce thermal shock to the container by rapidly moving the container from one temperature to another.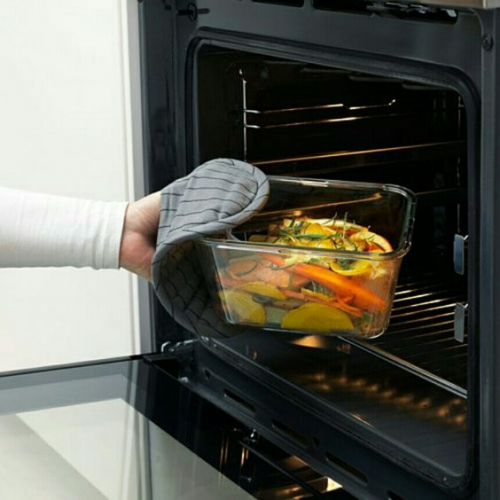 Dishwasher-safe
Today, most food containers are compatible and safe for the dishwasher machine. You will save time by immediately placing the sturdy containers inside the machine. However, disposable containers and canister-styled containers require handwashing. Placing the prohibited items may warp inside the dishwasher which may cause problems. Thus, handwash some containers when needed.
Types of Food Container
There are different types of food containers available in the market. However, we would like to focus on the three commonly used food containers in the kitchen.
Plastic Containers
There are two classifications of plastic containers – the hard plastic and the flexible plastic.
Flexible plastic containers are the least expensive option, you can send food home with guests without thinking if it will be returned. They are usually sold in bulks and disposable. You can use the containers multiple times, but you need to be cautious as they are meant for single-use. More so, they are prone to crack and discoloration. It might brittle, crack, or break when exposed at cold temperatures.
Meanwhile, hard plastics are more durable. They are slightly expensive than the flexible plastic container. Most of the hard plastics are dishwasher-safe, but excessive dishwashing may dull the appearance of the container. You can wash them by hand to maintain its finish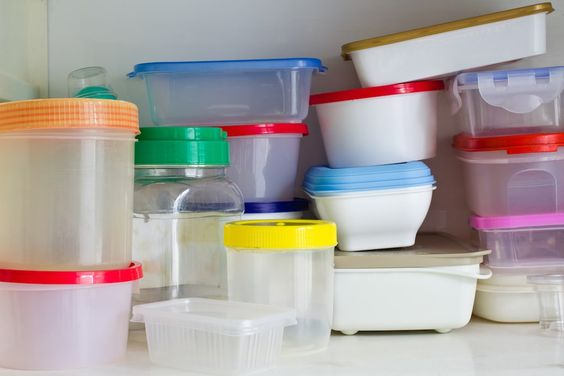 Glass Containers
Glass containers are heavy, sturdy, stain-proof, and maintains odorless. These containers are available in various styles, shapes, and sizes. They are great for marinating, storing leftovers, and using in ovens.
Glass food containers are likely to be safe in freezers, dishwashers, ovens, and microwaves. But, we still recommend checking the manufacturer to ensure safety. Meanwhile, the glass container lids may need special care as they are different from the material of the container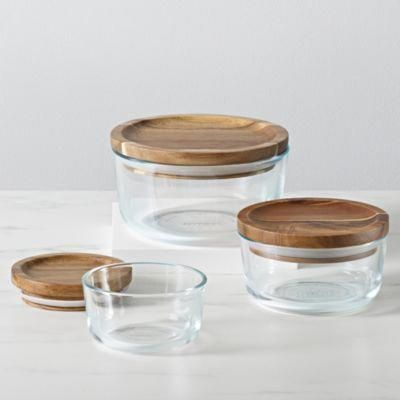 Canister Containers
Cannister containers mostly store flours, pasta, sugar, and other pantry staples. They have large openings making it easy to dispense the contents. They have secured and tight lids, but they are easy to open and close. It makes sure to keep away pests and prevent moisture.
Final Thoughts
Foods need to be stored in chemical-free and securely locked containers. With the right food container, you will enjoy your homemade food at work or at school. Thus, ensure a safe, durable, and cost-efficient container by considering the enumerated factors.