The Land of Masala dosa, Rava Idli, Mysore-Pak, Bisibele bath, the land of rich culture and cuisine we take you to Karnataka, a state in the south-western region of India. It has been home to innumerable great empires and dynasties. The Karnataka cuisine is one of the oldest surviving regional cuisines in India and has a wide variety of vegetarian as well as non-vegetarian dishes.
The cuisine is mainly divided into two parts the north Karnataka cuisine and the south Karnataka cuisine. The north Karnataka cuisine consists of Kosambari(Salad), Saaru(Rasam) ,Mosaru (Vada) and happala(Papad) whereas south Karnataka cuisine consists of Palyas(Veg Curry) .The staple diet is mainly dominated by Ragi and Rice.
So here we present 21 most famous dishes from Karnataka from breakfast to Dinner and yes of course Sweets and savories which this land is known for.
Mysore Masala Dosa is not only popular in India but is also greatly appreciated all around the globe. Dosa is a crepe of rice batter and the dosa is stuffed with boiled potatoes and peas. Dosa is usually accompanied with sambhar and coconut chutney. Click for Mysore Masala Dosa Recipe.
Picture Credit:Source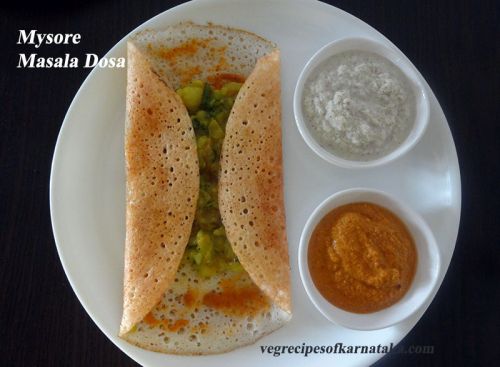 Nool Puttu, Idiyappam, string hoppers is a traditional south India healthy breakfast which is part of Kodava cuisine from the hilly region of coorg.  Nool puttu are noodles made up of rice. Though the process is complicated nool puttu proves to be a great option for lunch as well as dinner. Tastes best when served with coconut milk. Click for the Nool Puttu Recipe
Picture Credit: Source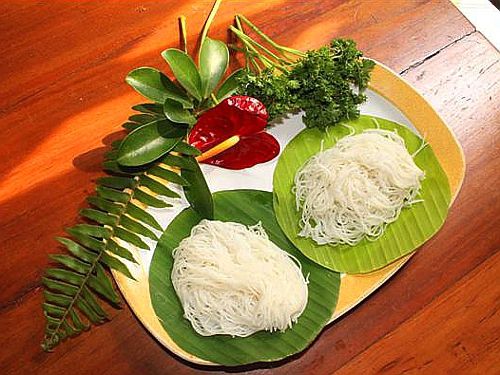 All of us are really familiar with idli but Rava idli is an idli which is made from semolina, During second world war when Rice which is used to make idli has a  storage and hence Rava was used to make this wholesome breakfast. Rava idli is the innovation of Karnataka itself and first Rava Idli were served by MTR( Mavalli Tiffin Rooms) Restaurants chain . It is served with Saagu (Potato Curry) and Chutney. Click for  Rava Idli Recipe
Picture Credit: Source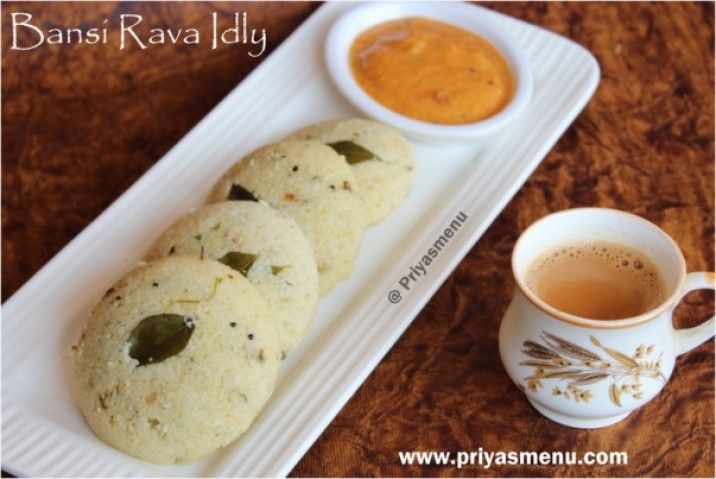 Here is the Lunch Platter which is served in Karnataka…
Kosambari is a deliciously healthy side dish or Moong Dal salad. The dish is a combination of fresh vegetables and pulses (especially soaked Moong Dal), some spices are also mixed to add that extra value to the taste. Click for the Kosambari Recipe.
Picture Credit: Source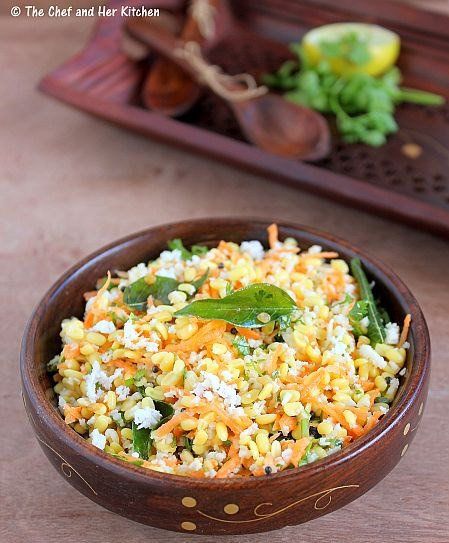 Palyas is a very common and one of the popular dishes in Karnataka it's nothing but a sautéed vegetable dish. The preparation is very simple as initially the vegetables are either diced or shredded and then later fried in shallow oil along with spices like turmeric and mustard seeds. Click for the Karnataka style mix veg Palya Recipe.
For recipe click on the following link
Picture Credit: Source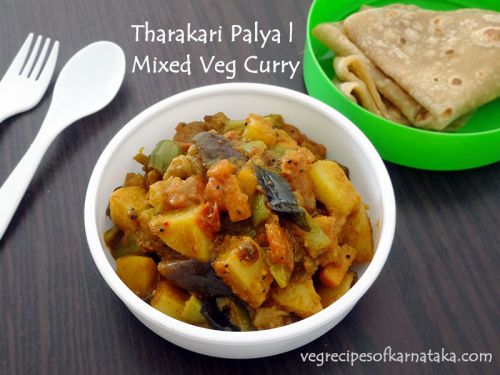 Call it Indian Clear soup or the best home remedy for cold, Saaru or Rasam is a must have for lunch. You drink it or mix with plain rice but no lunch is complete without Rasam because of its authentic and exquisite taste as tamarind is the base of any rasam. It has veg and nonveg options available. Click for  Chicken Saaru and Veg Rasam  Recipes
 Picture Credit: Source
Bisibele bath is one of the most loved rice dishes in Karnataka made in almost every household. Initially, dal and rice are cooked together then tamarind and other spices are added to the mixture and cooked well to give a very distinctive taste. This one dish meal becomes quite irresistible once served with ghee and raita. Click for the Bisibele Bath Recipe
Picture Credit: Source
Kori roti is a very famous Mangalorean delicacy. Kori roti is a combination of chicken and roti (Rice bread which is sun-dried and hence hard and crisp) served together. Chicken gravy is cooked properly with spices for a long duration so that it tastes super appetizing. Click for  Kori Rotti Recipe.
For recipe click on the following link
Picture Credit: Source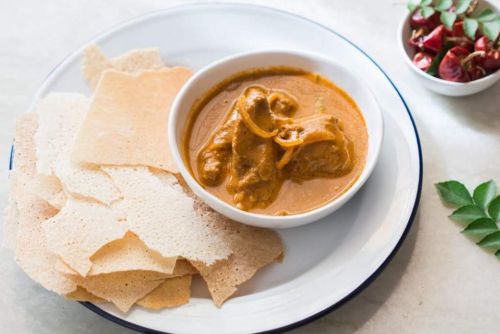 Thondekai godambi is a simple side dish prepared with tindora(Ivy gourd) and cashew nuts. This is one humble veggie which can be used in the various form and here the Karnataka special. Click for Thondekai godambi Recipe
Picture Credit: Source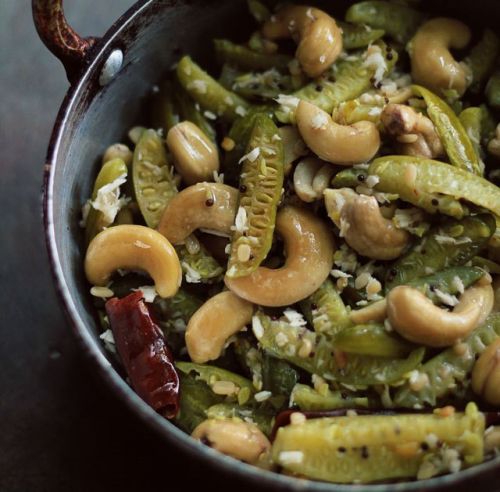 Ragi mudde is a staple dish in most parts of Karnataka. Ragi is not only full of fibre but also helps keep blood sugar low so it is considered as a very healthy option. Though Ragi tastes very bland if accompanied with any non veg gravy this combo  instantly becomes a favorite. Click here for Ragi Mudde Recipe
Picture Credit: Source
Neer dosa is the water crepe as Neer in Kannada means water, this is a no fermentation dosa which can be prepared instantly. It is a very thin crepe made up of rice batter. Neer dosa tastes best when served with prawn masala curry or chicken curry and Vegetarians can have with various chutneys. Click for the Neer Dosa Recipe
Picture Credit: Source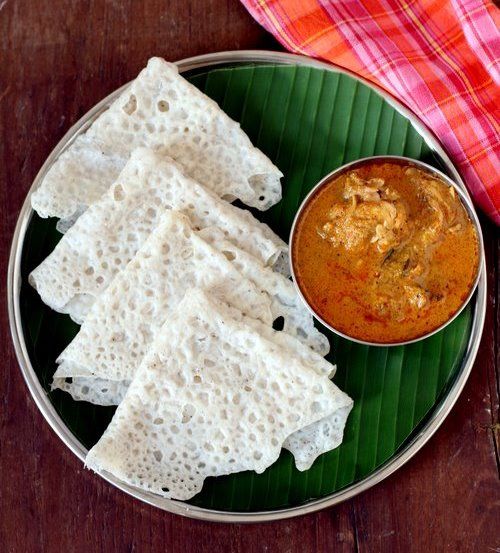 Pulli munch is one of the extremely popular fish dishes which hails from Karnataka. This fish dish has a particular authentic Mangalorean taste. Pulli Muchi gets such a defining taste because of the masalas that are used especially Chillies and Tamarind. Usually, Mackerel fish is used as this is found in abundance at the Mangalorean coastline. Click for the Pulli Munchi Recipe.
Picture Credit: Source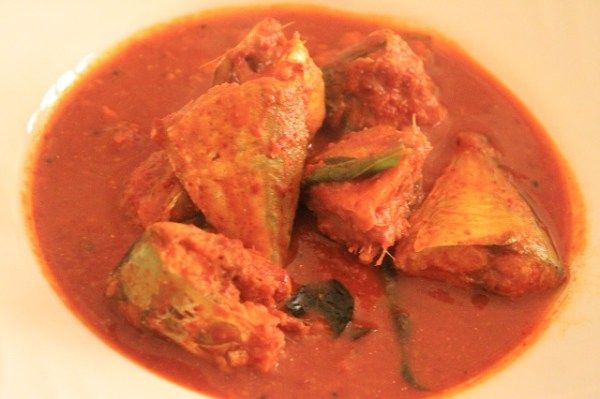 Baimbale is a very popular vegetarian dish from Karnataka. Baimbale is a vegetarian curry made from bamboo shoots. Follow the old traditional south Indian way of making the dish and enjoy it.Click for the BaimBale Curry Recipe
Picture Credit: Source
Chilli bhaji is a very popular street food in India. Initially,   chilli is dipped in a paste of gram flour and later fried. In some parts of Karnataka this is accompanied with puffed rice Upma. Click for the Chilli Bhaji Recipe.
Picture Credit: Source
Bale Muruku is also known as a Coorg version of banana fritters. This recipe gets the amazing taste if the bananas ( Mara Bale) are from Coorg but you can always make from using ripe bananas available.  These are deep fried and can be stored in glass-jar for 15 days so you can enjoy them for a long. Really? No, they will get vanished because they are so tasty. Click for the Bale Muruku Recipe
Picture Credit: Source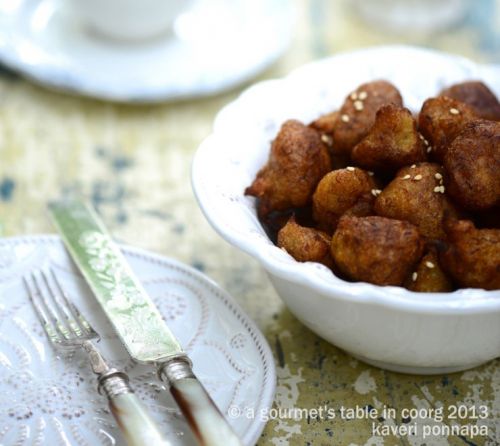 And Finally, some desserts and sweets which are world famous-
Mysore pak is an extravagant sweet dish which is a very evident part of cuisine in Karnataka. Mysore pak is very sweet to taste and has a fudge like texture. This mouthwatering pak is made up of sugar, Loads of ghee and gram flour. Click for the Mysore Pak Recipe.
Picture Credit: Source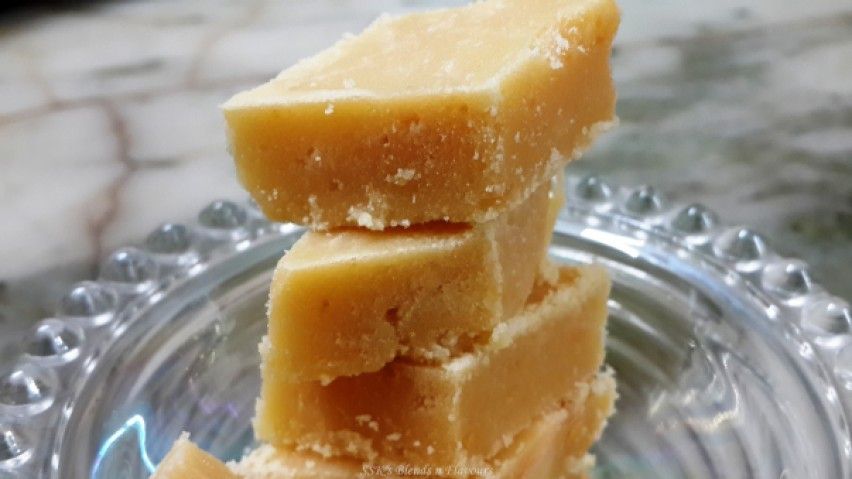 If you have a sweet tooth then be ready to relish your taste buds with shavinge payasa. The preparation is very simple and the outcome is mind blowing. Vermicelli is roasted in ghee along with some dry fruits and then a cup of milk and water are added to the mixture respectively .Later bring the mixture to boil and mouth-watering delicacy is ready. Click for the Savinge Payasa Recipe.
Picture Credit: Source
Sweet delicacy from Karnataka is a must have during the festival of lights, Diwali. Made from Coconut, jaggery and Khus-Khus ( poppy seeds), these deep fried puris should not be stopped from making just because they are deep fried, these are must have!!. Click for Sajjappa Recipe.
Picture Credit: Source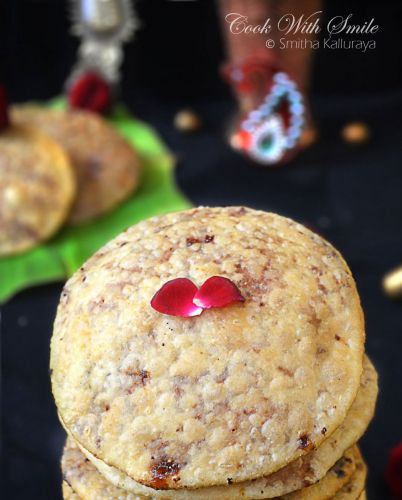 Holige is a roti made up of refined flour stuffed with paste of chana dal mixed with some spices and jaggery. Holige is especially prepared during festivals. Holige tastes utterly delicious and is full of calories but all the extra calories totally worth it. Click for Holige Recipe
Picture Credit: Source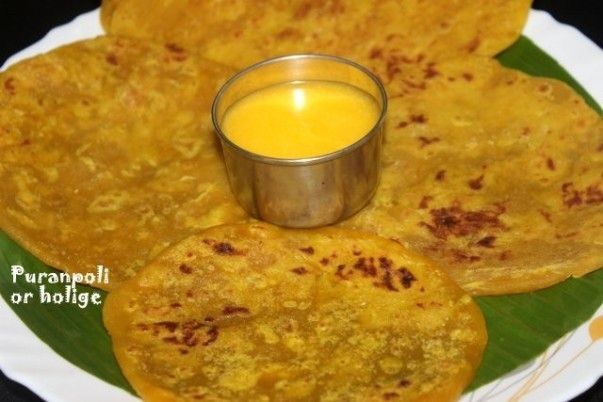 This Article would be incomplete if we do not mention…. These two things from Karnataka.
South India wakes on Filter coffee.Coffee in Karnataka has achieved a prominent place in the heart of coffee lovers, because of its taste and excruciating aroma. Filter coffee is served in tumbler and dabraa the special glass just used for the frothy filter coffee.This was the land where first coffee plantation happened in the Country. Do you remember the story of 7 Coffee Beans.  Click for the Filter Coffee Recipe
Picture Credit: Source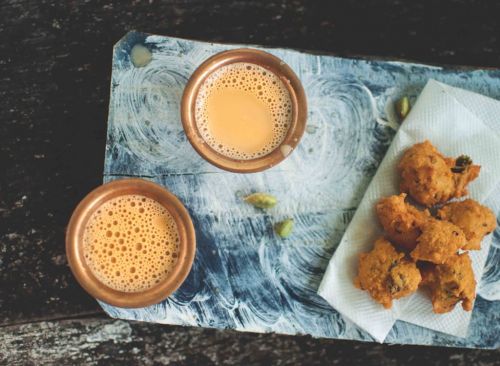 Coorg is naturally blessed with not only beauty but also honey and coffee. Coorg's honey is considered as very pure and healthy. The fresh nectar is sourced directly from dense forests and valleys in coorg and is used for so many authentic recipes in Karnataka. Read about why Honey is a super Food.
Now you can try these recipes and enjoy the abundance of the richness of cuisine of Karnataka at home. H