A passionate cook, a clean eater, a man who never forgot his roots. Pradeep Sriram is not your average Indian. While working in the U.S., Pradeep loved to cook for himself and often surprised his roommates with his delectable cooking skills. He left his job and came back from US to do something in his homeland, India, Pradeep and his wife Sharanya felt that there was a pressing need to use clean, pure, ethically sourced and fresh ingredients that needed to be catered to a very accepting Indian audience. Kalya Bharath was thus born.
Kalya meaning "Healthy" in Sanskrit was suggested by Pradeep's business and life partner, his wife for their mission was to provide Healthy snacks to India (Bharath).
A very young company that is merely two months old, rolled out its first product i.e. Kalya Cocoa Powder. Here is a bite (bit) about Kalya Cocoa powder.
Kalya Cocoa Powder is made of only the finest hand-selected premium cocoa beans. Minimum processing protects the cocoa's natural nutrients and flavour. The finished product is a delicious powder that is just as nature intended, with no sugars or fillers.
Kalya Cocoa powder is a pure form of natural unsweetened form of cocoa powder.
Kalya says that "their classic unsweetened, natural cocoa powder is ideal for hot cocoa, frostings, cakes, brownies and other rich chocolate desserts". Besides food & beverage industry, leading cosmetic and personal care industries can also use their cocoa powder as an important ingredient for skin care products as well.
Kalya Cocoa Powder is rich in vitamins and minerals. Also, consumption of cocoa powder food products benefits the Cardo-Vascular health of customers. Cocoa may lower cholesterol, reduce the risk of blood clots, increase blood flow to arteries, lower high blood pressure, boost cognitive performance and provide essential minerals such as calcium and potassium.
With many more health friendly products in the pipeline, Kalya hopes to go great guns. They teamed up with Team Plattershare and through them reached out to varied Professional bakers and home chefs to review and get a candid feedback about the cocoa and share some interesting recipes. You can buy Kalya cocoa powder from Amazon.
Here's what our Professional bakers and home chefs have to say.
Vinita Bhatnagar says "We really like the flavor of Kalya cocoa. We used in bakes, oats and even making for ladoos, it is really good."
Rohini says "Received the packet today morning and trust me it is just amazing. I immediately made cocoa coconut rolls using Kalya cocoa powder and I am so satisfied with the product."
Parinaaz M said "You get a lot of good quality, aromatic cocoa powder in a resealable pouch, that retains the wonderful aroma of this product, will certainly recommend and re -purchase. I used it to make two minute microwave cookies!"
And now for the best part, checkout the recipes created by our talented Professional bakers and Home Chefs specially with Kalya Cocoa Powder.
1. Choco Enerygy Bars With Pistachio & Cranberry by Priyanka Gandhi Mehta: These Chocolate Pista and Cranberry Energy Bars are just the right thing for your breakfast or snack whenever you are short of time. Make these super healthy breakfast bars ahead of time for those rushed mornings. Priyanka says she is going to buy it more and use it for her professional baking as she runs her venture called Flavored With Love where she never compromises on healthy ingredients for her bakes.
2. Loaded Chocolate Granola by Priyanka G. Mehta: Chocolate for breakfast that too in such a yum and healthy form that you will love to make a batch of it every time before it is finished.
3. Icecream Sandwich by Rekha Joseph: One of the kids' favourite are Ice cream sandwiches!
An ice cream sandwich is a frozen dessert consisting of ice cream between two wafers, cookies, or other similar biscuit.Rekha Joseph who loves to bake breads and successfully runs her break baking classes RJ's Healthylicious Bakes , Bangalore says
4. Millet Chocolate Granola Bars by Rekha Joseph: Millet chocolate granola bars are the ideal energy bar for your quick snacks. These Millet chocolate granola bars are loaded with nutrients from the oats, millets, dried fruits, nuts and honey contained in the bars. They are the best to munch on to relieve those hunger pangs in a jiffy!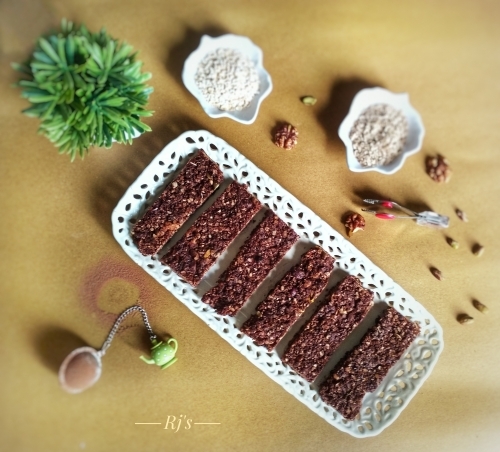 5. Ragi Chocolate Cranberry Biscotti by Rekha Joseph: These Ragi Chocolate cranberry Biscotti that are studded with milk chocolate chips and dried red cranberries. They have a very nice chocolate flavor and their lovely deep brown colour comes from the addition of Kalya cocoa powder to the batter. Ragi chocolate cranberry biscotti are crisp and crunchy and perfect for dipping in your coffee for a snack.
6. Gluten Free Chocolate Orange Walnut Cake by Rajni Anand: Chocolate orange walnut cake is healthier in every sense. It can be eaten.by gluten intolerant people. Further chocolate and orange are a match made in heaven. Rajni Anand who is a Chef, baker and runs her venture Cakery n Cookery Mantra says that she will use Kalya cocoa powder as as it is apt for many of her recipes.
7. Chocolate Walnuts Cinnamon Buns by Preeti Shridhar: Put a large scoop of ice cream and then pour oodles of homemade chocolate syrup before digging in. Preeti Shridhar who is the professional baker and bakes at Cakes & Curries says that she loved the intense and strong aroma of cocoa powder and she would use it if its readily available
8. Chocolate Baileys Ice-Cream by Preeti Shridhar: Chocolate Baileys Ice-cream is a delight for those who love Baileys and chocolate. Preeti Shridhar who developed this recipe using Kalya cocoa powder says that she is waiting for the brand to introduce dark and black cocoa powder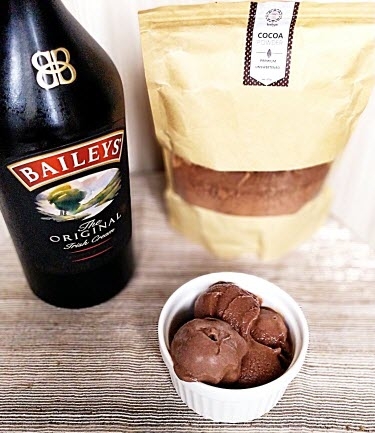 9. Chocolate Syrup by Preeti Shridhar: This, a very easy recipe, gives you yummy chocolate syrup in minutes with no preservatives. Once you try this, you will never use store bought ones. Use very good quality cocoa coz the taste of your sauce depends on it.
10. Brazilian Brigadeiors by Jaya Rajesh: Brazilian brigadeiors is dessert mainly made in brazil and served during reunions and get togethers. Jaya Rajesh from Chennai, says she loves the product and finds it perfect for her bakes.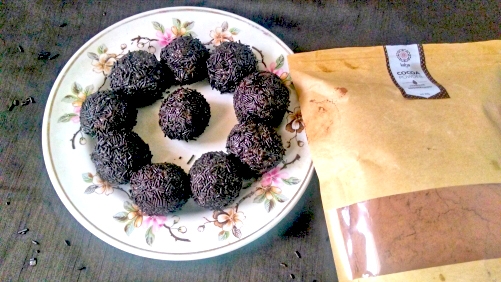 11. Cocoa Cocunut Rolls Using Kalya Cocoa Powder By Rohini Punjabi: "This is a dessert which I am eating since my childhood" – says Rohini punjabi from Rohini's Wake and Bake Cakes. My mother used to make this for us in many different ways. It is very light and yummy, and so you can have it anytime and without any guilt. Rohini brought back her old memories with Kalya Cocoa powder.
12. Chocolate Patishapta by Rimli Sarkar: Patishapta is a type of bengali sweet dessert specially prepared during winters with or without jaggery.
Rimli Sarkar who is the cake designer and runs her venture 16 SWEET SIN ROADf say "Here I have made a fusion with a bit of twist. I have used Kyala's Cocoa Powder to make this yummy mouthwatering Chocolate Patishapta"
13. Two Minute Microwave Chocolate Chip And Nuts Cookies by Parinaaz M: These lovelies are made in the microwave (solo, non-convection microwave!) and do not taste either like a cookie shaped cake or like raw cookie dough, they turn out crunchy from the outside, chewy from the inside and satisfy your sweet craving completely. The secret lies in cooking them for a few seconds at a time so as to not burn them. Now no more guilt of overeating a yummy snack coz you only have to make two pieces! Parinaaz M, blog at A Dollop of That! says that she loved the fresh aroma of the cocoa powder and she would love if Kalya can introduce dutch processed cocoa too!
14. Vegan Chocolate Eggplant Dip by Sweta Biswal: One of the enduring myths about chocolate or cocoa powder is that it can be used only as an ingredient in desserts . Of course there is a exception like a Mole or something equally unheard of.
However given the enormous nutritional benefits of cocoa, it makes sense to include it in everyday cooking. That too in a savoury form so that one does not end up consuming excess sugar.
This easy to prepare dip is something one can relish everyday. Finger foods or snacks, the rich bitter sweet notes of this dip will leave you feeling blissfully content.
15. Chocolate Matcha Lime Foxnuts by Sweta Biswal: Chocolate pairs quite well with some savoury ingredients too.
These Chocolate Matcha Lime foxnuts or Makhanas are the perfect way to include a serving of cocoa in everyday food. Sweta Biswal blogs who blogs at http://www.oriyarasoi.com/ at says "Kalya has rich, fragrant and just the right undertones of bitterness .
Also it has a very fine texture without any grains or residue, and here comes the best part, she has already decided to switch to this brand. Why? Here is what she says "I have already switched to this brand after using it in a couple of my recipes. For me, a good hot chocolate is the most important yardstick for judging the quality cocoa powder. And Kalya passes the test with flying colors."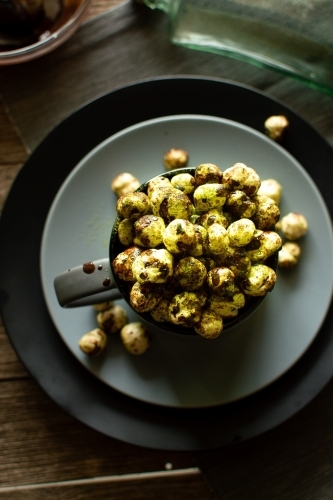 16. Vegan Orange Olive Oil Chocolate Bark by Sweta Biswal: Chocolate has a naturally bitter taste that is usually masked by adding cream, milk and oodles of sugar. But for those who love these bitter notes, nothing like a boost of orange peel to bring out the best in it. The addition of orange reduction, olive oil and sea salt brings it all together.
17. Cocoa Jelly Peanut Butter Milkshake by Rajeshwari A.: Cocoa Jelly peanut butter milkshake is made using cocoa jelly, peanut butter and vanilla ice-cream as the main ingredients. Peanut butter and cocoa is always one of the delectable combinations. This is quite different from regular peanut butter chocolate milkshake as cocoa jelly is used instead of chocolate. The specialty of this milkshake lies in the inclusion of cocoa jelly made using Kalya cocoa powder.
The jelly by itself is a wonderful dessert! Kids would love this cold beverage, relishing their favorite jelly. This cocoa jelly is completely vegetarian as it is made using Agar Agar. Rajeswari has a different view about Kalya cocoa powder. She likes that the cocoa powder blends well with all sweeteners and vegan milk options as well. She liked to be experimental with recipes and working with her recipes using kalya cocoa powder was a success.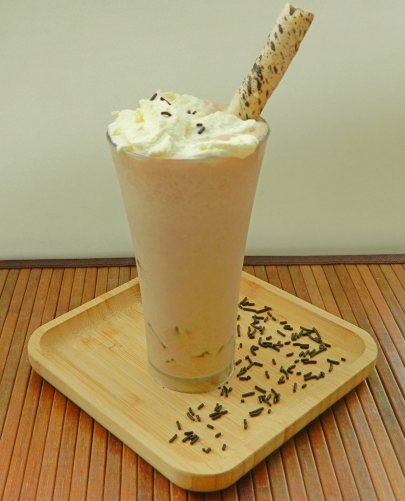 18. Vegan Fresh Mint Leaves Hot Chocolate Using Kalya Cocoa Powder by Rajeshwari A.: Vegan fresh mint leaves hot chocolate drink is made using creamy coconut milk, Kalya unsweetened cocoa Powder, fresh mint extract and is sweetened using raw sugar.
19. Vegan Hot Chocolate Using Kalya Cocoa Powder by Rajeshwari A.: This vegan hot chocolate drink is made using creamy coconut milk (Homemade), Kalya unsweetened cocoa powder and is sweetened with dates and coconut sugar. It is a complete healthy drink that can be consumed anytime during the day, which is lighter yet so decadent. Rajeswari was able to obtain the desired outcome, with minimal usage of kalya cocoa powder.
20. Egg Free Mississippi Mud Cake by Rajeshwari A: Mississippi Mud cake is a very famous chocolate cake with marshmallows and a sweet chocolate glaze, and let me ask who will not love it? It is a delectable dream and a sweet treat for all chocolate lovers. Why is it called so? This chocolate cake is topped with gooey chocolate sauce and the cake looks dense like the banks of Mississippi river.
21. Chocolate Fruit And Nut Granola by Vinita Bhatnagar: Granola fully loaded with almonds, cashews and apricots. It is sure to boost your breakfast and will make your day super happy. Vinita Bhatnagar, who runs SoulBakes, is a very conscious baker and cannot compromise on her ingredients. She loved the product and says this product is pretty good for light cocoa, she also recommended to launch other product with dark cocoa like Belgium as well.
22. Power Plus Oats Breakfast In A Jar By Vinita Bhatnagar: In today's fast life having a good breakfast is getting tougher every single day. So, if I tell you that one can make a very quick but a power packed no cook dish in less than 10 minutes, sounds lovely isn't it. I also believe adding chocolate to anything turns otherwise boring stuff to delicious in no time. So here is my third and very simple recipe for Power plus oats breakfast in a Jar with the goodness of banana, apple and of course Kalya unsweetened cocoa powder.
So, do not forget to get yourself a pack of Kalya's Cocoa Powder here and experience freshness like never before! They have lost more healthy snacking options coming out soon. Do give them a like on their Facebook Page.
About the Author: Parinaaz is an MBA Finance by profession and writer by passion. She blogs at "A Dollop of That!", her food blog, that was the outcome of her passion for writing, which surfaced often but never overflowed and since she loves to experiment with ingredients, a recipe blog was her natural choice.
When Parinaaz is not blogging, she doubles up as a content partner for Plattershare, practices Iyengar yoga, mimics all and sundry or is out and about photographing pretty flowers all depending on what time of the day it is. You can be in touch with Parinaaz on her blog – A Dollop of That, or like her Facebook page, or follow her on Instagram, Twitter and Google+
This food story is brought to you by Kalya Bharath