I was shocked, I was completely crushed after seeing those 4 slices of breads left completely untouched on the plate lying on the table next to mine.
It happened, during one of my stays in a resort in Mysore, Karnataka; an observation which for most people would be one of those "chalta hai" (It's ok) moments.
I am an avid traveller and have stayed in many resorts and hotels in India and most of them serve complimentary or rather "FREE" breakfast which I have enjoyed most of the time for two reasons – one it's "FREE" "FREE" "FREE" and second the buffet spread is actually quite elaborate at many places. I am not sure if the same system exists in other parts of the world but unfortunately in our country, where there are millions of people who struggle for one meal a day and more often than not sleep on an empty stomach, an elaborate complimentary breakfast buffet seems rather profligate.
"FREE" breakfast excites everyone including me and the moment there is something free, we all just rush and grab it, forgetting all fine-dining mannerisms and the basic value which we learned in school – "Take only what you can eat".
So here is the (not so uncommon) story of that day – there was a family seated on the table beside mine with two teenage daughters and a mother who literary stuffed their plates with every item which was spread on the buffet table and that to in quantities that could easily serve at least 3 more families. I looked shamelessly at their plates and wondered for a moment if the food was getting over, should I also rush and pile up my plate? Then I realized that it was "FREE", so grab and pile up and stuff the mouth so much that there is no space to breathe!
I took a deep breath and started my discourse – free gyaan to my husband and daughter, hoping that my shrill voice would be loud enough for them to "overhear" and they will feel ashamed of what they were doing. But, I was the one left red faced, as they left the table with all the food half-eaten and especially those 4 big slices of bread which were completely untouched waiting for their turn to find a place in a shady dustbin.
I felt like calling the trio and forcing them to eat everything left behind along with a healthy serving of moral values. But this is a democracy, isn't it, freedom to waste is a birth-right of many. I looked around and almost every table had plates with some chutney, half eaten idli, unopened butter packets and half-finished tea or coffee. I wondered how nicely we crib about expensive commodities in our country. We crib about demonetization, we crib about VAT, service tax, swachh bharat cess when added to the restaurant-bill and the latest rants about GST, but the fact is, we deserve it.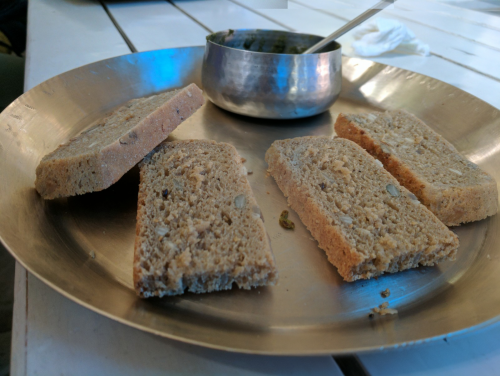 If this open letter of mine, reached the PMO, (with support of people who think that wasting food is a crime), I would request our honourable Prime Minister to make a law where no resort or hotel should serve anything complimentary. There should be no elaborate buffet spreads. I know this might attract a lot of criticism on social media. People might also stop signing-up on my food networking platform www.plattershare.com because as a co-founder, I should only be discussing about food and should not be bothered about such issues. But, I feel this is my responsibility as an entrepreneur and even more so as a concerned mother who sees hundreds of hungry children on the streets. Will there be enough food left for generations to come? Will my daughter be able to buy food for her kids and grandkids? I'm not over-reacting, this is a reality which we will have to face!
"Please do not waste food, you are wasting resources, there are so many hungry people out there" these messages look good and are tweeted on world hunger day and rest of the days we just wait for free food.
Brining in this simple law would definitely not make people die of food because the ones who grab free food in complimentary breakfasts are rich enough to afford one more meal for their family. I am sure this law would be welcomed by most of the restaurants who are wasting huge amounts of resources and money to procure food which they have to serve free because their competitors are doing so.
Sadhguru Jaggi Vasudev, as a part of "Isha Vidhya", had started a very nice initiative – to skip one meal (Wednesday's dinner) a week and donate that amount (whatever little it is) to feed the hungry. This serves the dual purpose of making us realise how it feels to go to sleep on an empty stomach and at the same time contributing to a good cause. Maybe, this will make us more empathetic the next time we leave food on our plates.
I am a worried mother, and the granddaughter of a farmer. My father left the village and moved to the city because farming had no future at his time, but my roots are still there. And now I know the reason – those 4 big slices of bread, which nobody cared about, what will anyone care about the farmers who put in so much of effort to bring food to our plates, but are being forced into committing suicide.