Have you ever wondered why your food blog is not fetching you revenue from Google? Why is your recipe page not seen on the first page of Google search?
Team Plattershare started working and searching the reasons and we thought to share the knowledge which we have gained over these few years so that it helps all of you to follow your culinary passion and showcase your creations with the world.There are two aspects which play an important role – One is SEO (Search Engine Optimization) and second is the way you present your content.
Under TIPS (Tasty Instructions From Plattershare), we would start with the second aspect which requires no technical knowledge. Here, we share tips and tricks of writing and presenting content – be it recipes, updates, photos or food stories so that it can make a visible difference in the way you write your food experiences.
Let's begin with Recipe Writing
There are a few common mistakes which we make while writing content and with simple tricks and 12 best guidelines you can improve them and make your recipes more readable while increasing the reach at the same time.
Team Plattershare, is here to help you and share our knowledge with you because we believe that sharing is caring and together we can grow and make a difference. Start and take baby steps with us and we will keep bringing you more TIPS from time to time to help you improve your blogging/recipe writing skills. Feel free to ask as many questions as you want and we will try to answer them. So, sit upright, flex your fingers and get ready!
Let's begin with writing steps or method of preparation which is the most important part of writing recipes.
The DO'S
1. Write in plain English
Do not use Jargons or names of ingredients which are not known to the world. Be specific, give clear Instructions.
Simple way of writing – Wash and cut tomatoes
Better way of writing – Wash and Finely Chop/Slice Tomatoes
You need to be specific and give clear instructions to your reader about how the actions, while making a dish.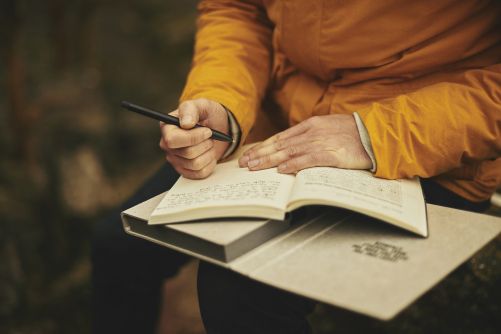 2. Use Apps to fix your grammatical mistakes
Use free apps like "Grammarly" for grammar mistakes and basic "spell check" on Microsoft word or Google docs to check spelling mistakes before publishing your content. Do not write on the blog or any platform directly, take out time to sit, think and then write. Remember, your blog is not for your family and friends!! It's out there, on the internet, to be read by anyone and everyone including international audiences and English is an international language. Even if you don't have complete command over the language, use these apps to hone your writing skills. Learning is progressing.
Wrong way of writing – add the grinded masala
Correct way of writing – add the ground masalas
–
Wrong way of writing – This biryani is a mahrashtrian dish, its tasty and easy to make.
Correct way of writing – This biryani is a Mahrashtrian dish, it's tasty and easy to make. (Tip: Use It's only when you mean to say "It is")
_
Wrong way of writing – Turn of the gas
Correct way of writing – Turn off the gas
3. Repeat the Ingredients
It's good to tell and repeat the ingredients which you added in the same sequence as you have done while cooking rather than saying add all the ingredients (because that's not how you actually cook)
Simple way of writing: Add all the ingredients as mentioned in the ingredient list.
Better way of writing:
Heat oil in the pan, add the mustard seeds and wait till they crackle.
Add onion and saute for 2 minutes.
4. Learn Verbs/ Actions
Learn words which describe the actions of cooking e.g. "Sprinkle" and "Drizzle" are two different words with different meanings. So are finely chopped, chopped and sliced. These actions will help the reader to imagine the way you have made the recipe and also explain the doneness of each step.
Simple way of writing: Put oil in the wok, put cumin seeds, put ginger, put onion, put salt and wait till it is cooked
Better way of writing: Heat oil in the wok, add cumin seeds and let it crackle, add finely sliced ginger, add finely chopped onion, sauté it till it becomes translucent and then sprinkle a pinch of salt.
5. Write in Separate Steps
Write clear steps in sequence just like how you actually made your recipe.  Don't try to put everything in one step.  Don't you wait for the onion to become translucent before you add in any other green vegetable? Let's work on the previous example.
Simple way of writing: Heat Oil in the wok, put cumin seeds and let it crackle, Add finely chopped onion, sauté till it becomes translucent, add in ginger-garlic paste and sprinkle some salt.
Better way of writing: Break this one sentence into 4, It would make your recipe more readable –
Heat oil in a heavy bottomed pan. Add cumin seeds, let them crackle.
Add grated ginger, sauté till the raw aroma of ginger disappears
Now add finely chopped onion, sauté till translucent, add green chilies and sauté for 1 minute.
Sprinkle salt to taste.
which one did you like more?
6. Punctuations – those Commas and Full Stops
Most of us put a comma and do not leave space after it and begin another word. Please leave a space after Comma. If you have put a full stop ( . ) begin from new line and step of the recipe. It is annoying to see lots of commas and full stops in a single sentence.
7. Send Capital Letters To The Beginning
Look at this subheading. It's considered a rude way of writing when we start every word in the sentence with a capital letter. Begin your sentence with Capital letter but don't Use After Every Word as It Is Annoying. Use capital letters only when you want to lay STRESS on a word, which you feel maybe ignored otherwise.
8. End of the Recipe
Because all is well that ends well! At the end of your recipe, finish by steps like the serving (how to serve), garnishing (how to garnish) and storing (if required) steps. It makes your recipe look complete.
9. Share notes/ tips/ mistakes
Every time when you make a recipe there is a learning, share them, especially your mistakes, the reader would find your recipe genuinely interesting as they will believe that the recipe is tried and tested by you and you have the complete knowledge of making it. It will help your readers and they will appreciate it.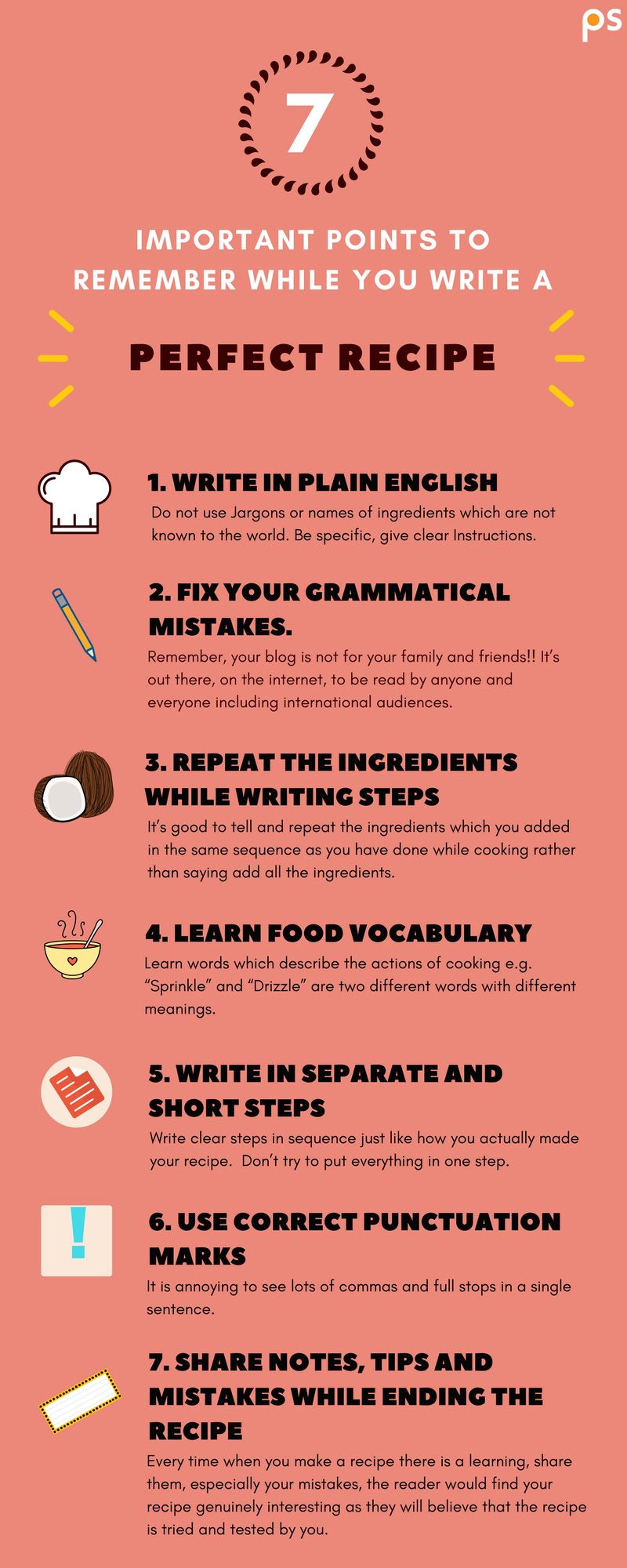 DON'TS
1. Don't assume people will know
If you are adding salt and lemon in rice or pasta and one needs to wait for a particular time to get the result do tell them.
Simple way of writing: Add lemon juice to the simmering milk and it begins to curdle.
Better way of writing: Add lemon juice to the simmering milk and wait for 2-3 minutes before it begins to curdle. Stir continuously for 4-5 minutes till the cuddling process completes.

2. No WhatsApp lingo/Shortcuts please
You are not chatting with your buddy. Don't use "U" (for you), "N" (for and), thn, becoz because if you don't have patience to write the recipe which you have created with so much love then your readers and viewers also do not have the time to read your recipe. Remember the world treats you the same way as you treat them.
3. Don't be in a hurry to publish your recipe
Read the whole recipe before pressing the submit/publish button, don't be in a hurry. The submit button says "I am out and ready for the world". Don't you check yourself in the mirror for the last time before stepping out when you go out for a party or meet someone then why not your recipe?  That reflects your persona.
If you want to check few of the best examples of recipes, check out the recipes from our expert Chef Reetu Uday Kugaji on Plattershare.
In our next food story, we will share words which can be used when you write your steps in your recipe. Stay tuned!!
If you have any other tips or Do's and Don'ts please do share them below in the comments section.
Also read: