You would have seen Indian mothers and grandmothers making hot chapatis over the Tava (Wok/ griddle) and serving you at dinner and lunch when you visited their house. Those soft, fluffy and melt-in-mouth ghee laden rotis were so delicious that you also wanted to make them and treat your family.
But the tragedy is yet to happen. When you want to recreate that same magic you fail. You might be tempted to call her and ask "How to make soft Rotis" and her answer would be "You just make it".
If you have ever heard this statement, you would know what we mean. That very moment you felt completely clueless and struggled to make the chapati. But look no further because HomeChef Geeta Biswas knows how to make Roti like a pro as well as teach it.
She realized that for her making chapati is like a kids play but there would be first-time cooks who would look for a solution and so she thought to share it via Plattershare.
Once you read this article and practice it few times, you are sure going to impress everyone by showing your newly acquired skill of making the roti.
Roti, Chapati or Indian Flatbread is a story of every household in India and you really can't ignore it if you love Indian Food.
Check out the step by step picture recipe of making Roti/ chapatti/ Indian Flatbread.
1. Take one cup (250 gram) of whole wheat flour and ½ Cup of water (125 ml). Put the flour in a shallow bowl, deep enough to knead the dough without spilling the dry flour.
2. Make a well in the center of the dough and put approx. 75 ml of water and start mixing the flour with your finger.
3. Once the whole water is absorbed and mixed, Start putting 10 ml of water occasionally and continue to mix with the finger. Till it becomes a big lump.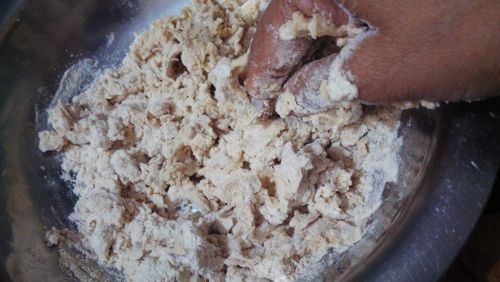 4. The dough should be firm and not too sticky on your hand. Now with the help of your palm, press the dough and knead it so that it forms a smooth lump of flour. Now your dough is ready.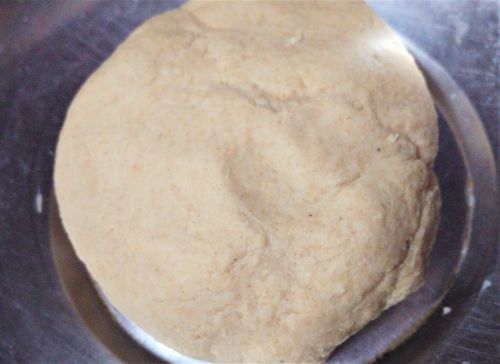 5. Just like any bread, the dough needs resting time. Let the dough sit for 30 minutes so that water is absorbed nicely. Cover the dough with a thin muslin cloth or the slightly wet kitchen towel so that the top most part of the dough, doesn't dry.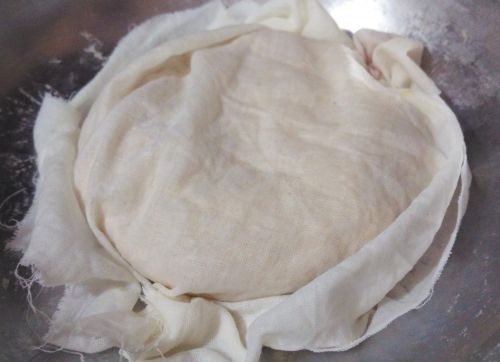 6. Make 7 equal sized balls and take one of the balls and press with your palms to make a small disc. Apply dry flour on both the sides of the disc.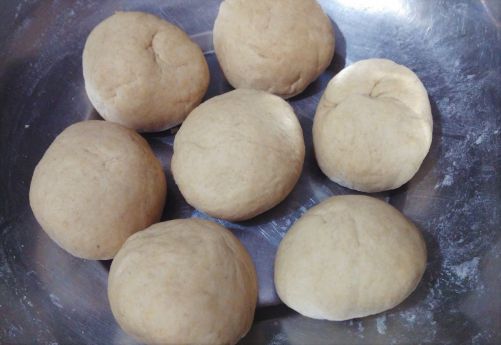 7. Place this disc on the kitchen slab or there is a special stone/wooden board which most of the Indian kitchen have for making roti. With the help of the rolling pin, start rolling the roti in one direction. Now, this is the most challenging part. So here are few tricks to do that
a) With the help of the rolling pin, when you apply pressure start applying it at the edges of the disc so that it automatically expands.
b) Don't hesitate to put dry flour on the board and roti, to begin with, because the roti might stick to the board.
c) Once the Roti expands a bit, flip it to turn and start applying the pressure again. This will help you to make the roti round.
d) One cheat trick – In case your roti has come out like the map of some country. Use a big circular cookie cutter like bowl and cut it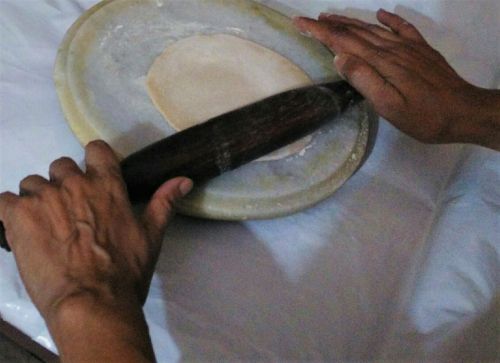 8. Put the Roti on hot tawa/griddle (Iron or non-stick) and let it cook for 30 seconds. Flip it and let it cook on the other side for another 30 second.
8) In case you have a gas stove (LPG Gas) you can remove the tava and put the roti directly on the flame and it will fluff up.
In case you have electric stove/ induction stove, you would have to continue pressing at the edge of the roti on the tawa till it puffs up. Do it with a help of clean kitchen towel.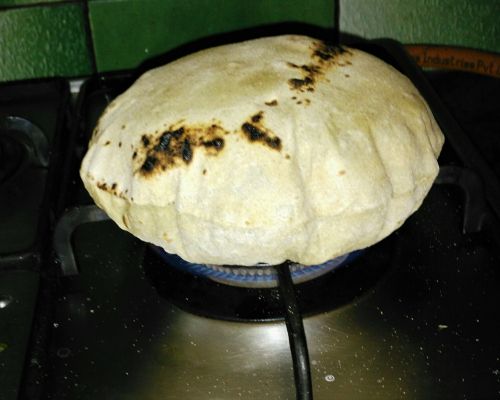 Last but not least, making perfect round roti is an art and it involves a bit of science too. We have shared most of the scientific facts basically tips and tricks for it. But it will come with patience and practice. Don't give up and try few times and you will perfect the art. Enjoy the roti with Indian curry and lentils.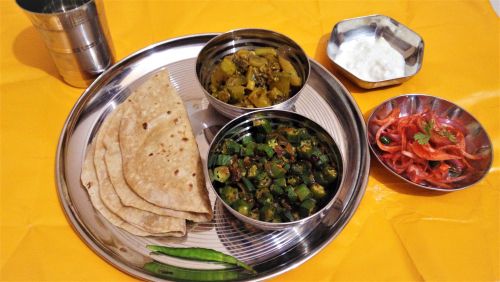 Comment if you are going straight into the kitchen and starting to practice to make perfect roti. Do share your first experience.
Do let us know if you need more help in making the roti and drop your questions. We will bring experts to help you out.
We thank HomeChef Geeta Biswas for sharing the knowledge with us.
About the Author: This Recipe has been shared by home chef Geeta Biswas who's simple yet experienced home maker. She feels that just like kids grow up with their toys, in the same way, she has grown up with her recipes. Ingredients are her tools and she loves making innovative recipes which have built up her identity.