Chef Altamsh started his culinary journey with TajSATS Air Catering, Mumbai under the guidance of the living legend Chef Satish Arora. TajSATS, the market leader in airline catering, is one of the mega kitchens of India and is known to produce more than 30,000 meals a day to serve onboard passengers of international and domestic flights. This is one of the Kitchens in India where experiments, knowledge, and learning go hand in hand with adhering to strict standards and rules which no one can deviate from. Chef Altamsh shares his experience of TajSATS and how this mega kitchen is completely different from any other Kitchen in the food industry. He also shares his learnings about Japanese cuisine which is slowly making a place on the palettes of Indian food lovers and of course few Japanese recipes to try which he taught to the 16 finalists of  Amul Master Chef India Season 5. Team Plattershare got took this opportunity to know about TajSATS from the Chef himself.
Tell us about your journey at TajSATS?
Subsequent to Hotel management studies at Rizvi College of Hotel management in Mumbai, I got a dream start to my career with Taj SATS Air catering, Mumbai. During this period I worked under the guidance of legendary Chef Satish Arora, Chef Hubert Pereira, Chef Rajeev Bansal, Chef Sanjay Kumar and a host of expatriate Chefs who visited from time to time and this wonderful exposure shaped my career and culinary outlook immensely. During this period of six years, I received various awards and accolades which have only strengthened my resolution to learn and grow and sharing these learnings with other colleagues of my team gives me great satisfaction. Presently I work as Sous Chef responsible for Japanese and Continental Cuisine.
How different and difficult is it to be in TajSATS, one of the giant mega-kitchens of India? 
TajSATS is the market leader in Airline catering. We prepare almost 30,000 meals every day for various International and domestic airlines which consist of different cuisines like Indian, Chinese, Singaporean, Japanese, Korean, Indonesian etc. The menu keeps changing so it's a great learning for us as we get a chance to learn something new every day. Food is prepared in bulk by following standard recipes. We have to follow very high hygiene standards as compared to Hotels. Menu planning and new recipe development for in-flight meals is not just simply creating new dishes but looks more significantly at product performance, i.e. the factors which have to be taken into account when preparing, chilling, holding and reheating on board the aircraft. This often means recipe adjustment—ingredient alternatives and supplements may have to be introduced to stabilize or improve the product. In addition, to alleviate excessive hot food smells on board the aircraft, food may have to be treated in special ways. Product development will also involve experimenting with different pieces of equipment and process methods; examining alternative ingredient suppliers, and experimenting with new ingredients as and when they become available. On occasions, it may also mean cost reduction and draw up alternative recipes and dish specifications. So it's a whole lot of different story at TajSATS
Why do you think Japanese Cuisine is still not so popular in India as compared to, say Thai and Chinese Cuisines? 
Japanese cuisine, I hold close to my heart and (it) has largely shaped my culinary philosophy. If it is not popular why would you find Wasabi by Morimoto's in Taj hotels at Delhi and Mumbai? We have many Japanese restaurants already in India and people have started trying Japanese food as we all know it is considered as one of the healthiest Cuisine due to its low-fat content and small portion. It is nutritionally well- balanced, light, and healthy, which is one of the main reasons for the longevity of Japanese population. The diet is very low in cholesterol, fat, calories and high in fiber. Indians are becoming health conscious day by day so within few years I am sure Japanese Cuisine will become popular as popular as other cuisines.
Can you share 5 most popular dishes of Japanese Cuisine? 
According to me, 5 most popular dishes are:
Teriyaki chicken: It is the most popular Japanese dish. Teriyaki sauce can be easily made using dark soy sauce, mirin and sugar and it is also available in ready form. Chicken can be marinated or grilled and then served with teriyaki sauce and since the taste is sweet and savory children also prefer it.
Miso Soup: it's a traditional soup consisting of a stock "dashi" into which softened miso paste is mixed. Many ingredients can be added depending on regional and seasonal recipes, and personal preference.
Tempura: it is like fritters of seafood or vegetables that have been battered and then deep fried.
Sushi: is the Japanese preparation of serving of cooked vinegared rice combined with varied ingredients i.e. seafood, vegetables, and fruits. It is served with pickled ginger, wasabi and soy sauce.
Chawanmushi: is an egg custard dish which is usually eaten as a meal, it consists of an egg mixture flavored with soy, dashi, mirin, mushrooms, chicken, and shrimps.
Share your Workshop experience at Amul Master Chef India Season 5
It was fun conducting the workshop for the top 16 contestants of MasterChef season 5. While interacting with them I felt as if I am working with my fellow Chefs in the kitchen. Some of them had very good knowledge of Japanese Cuisine and everyone was interested in learning maximum from my workshop. I am thankful to Chef Nilesh Limaye for giving me such a good opportunity.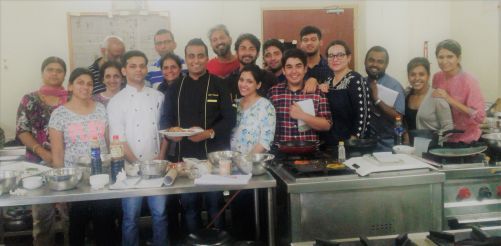 Mentored by Chef Satish Arora, Chef Rajeev Bansal and Chef Sanjay Kumar whom he admires a lot,  have seasoned him and taught him sustainability. Within a short span of his culinary career chef Altamsh has won many awards for himself but the closest award to his heart is TajSATS receiv the ng Silver prize for serving high quality meals to Nippon Airways.
So this was Chef Altamash who has received many awards and accolades at a very young age and is determined to make a difference in the Indian Food scene by introducing and experimenting with Japanese cuisine.