Himachal Pradesh is one of the 28 states of the Indian Union. It is located in the lap of the majestic Himalayas. It is primarily a hill state but a little percentage of its area is plain as well
Himachali cuisine is something that is unheard by most of the people living outside the beautiful hill state. Although, the food is not different from the regular dal-roti-sabzi of North India, but the simplicity with which it is cooked and served is what makes it different. Also, the use of locally available spices and crops gives the food its rich aroma and high nutritional value.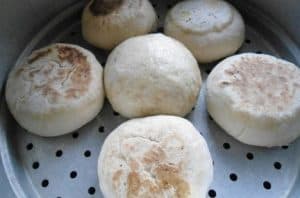 Each area of Himachal has some unique delicacy for your platter. The hilly areas offer you a mouthwatering dish named "Sidu" . Sidu basically is a kind of wheat bread which is fermented with yeast for about four hours. A stuffing, which may vary from dry fruits to mutton or to dried dals, is prepared and filled in round balls made with the dough. It is cooked for a while on slow flame and then steamed. Sidu tastes best when had with lots of melted desi ghee.
Then we have Mandi's (district/county) very own "Sepu Vadi" whose basic ingredient is fermented urad dal. The dal is washed and soaked in water and then ground and fermented. Vadi's are prepared by flattening the balls made out of fermented dal and boiling them in water. The dried vadi's are deep fried and can be stored for future use. While cooking, ginger, chopped onions, tomatoes, coriander and chilies are added along with the regular masala (spices). It can be best enjoyed with rice or roti (bread).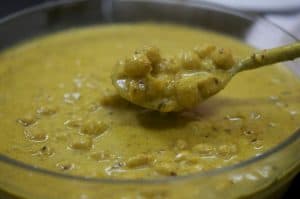 Chana Madra is a popular dish which is prepared by cooking boiled kabuli chana (chickpea) in thick beaten yogurt. A variety of masala's (spices) including cinnamon, black cardamom, clove and heeng (asafoetida) are used with the turmeric and coriander powder. Little soaked and ground rice are also added to thicken the consistency of the dish. Desi Ghee (butter) again adds a lot of flavor to the dish. A variation using Rajmah (kidney beans) instead of Chana (chickpea) can also be prepared.
Kheru, a soup prepared by cooking buttermilk with turmeric and spices, is usually enjoyed with rice. A variety of hilly asparagus, lingru can tingle your tongue. Another hilly jungle vegetable is kachnar which is said to be very good for blood purification. Patande or  pateer  is made by rolling buckwheat leaves in a mixture of besan and spices and later boiled and fried in mustard oil.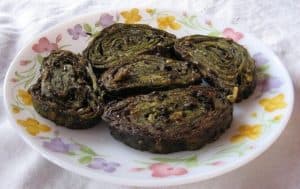 Mahni and Khattaa are two sour, tongue tingling dishes from the hilly state. Mahni is prepared by boiling green mangoes in water and later the resultant soup is given a light tadka. Khattaa belongs to the same variety though it is prepared by boiling water mixed with amchur  (dry mango powder), coriander powder, chili powder, turmeric powder and besan (gram flour). It is later mixed with besan ki boondi (gram flour balls)
Himachali food is usually vegetarian and cooked primarily in mustard oil. While Kheru may be light on stomach, Madra is a bit heavy. Patande are fried whereas Sidu is steamed. The variations are according to the climatic requirements of the area of their origin. Himachali food is very popular among the locals but is not a part of the regular menus of the restaurants located across the state. A few of State run HPTDC restaurants and hotels offer a few selected items and every year food festivals are held across the major cities/ towns of Himachal show casing the same.